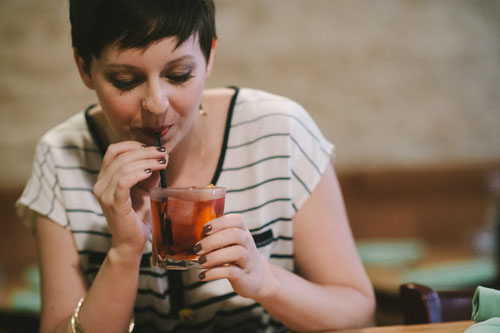 Kathryn Hutchison
Kathryn Hutchison is the writer and photographer behind The Austin Gastronomist. She started the blog in 2003 as a way to keep up with friends and family after moving to Austin. In 2009, the focus of the blog shifted to home cooking, local farms and artisan foods, culinary events, and the Austin food community.  The Austin Gastronomist has been featured on TasteSpotting, Foodpress.com and the Food News Journal's "Best of Blogs."
Since 2011, Kathryn has led the team of bloggers behind the "Austin Bakes" bake sales, which has raised over $25,000 for natural disaster relief. Kathryn is also the President of the Austin Food Blogger Alliance, a network of 150+ food bloggers in Central Texas. A 501(c)7 nonprofit, the group undertakes regular philanthropic, educational, and social programming in support of Austin bloggers and the food community. Their first cookbook was published in 2013 by The History Press, and includes Kathryn's recipe for Roasted Brussels Sprouts. The group hosted its first conference, The Byte of Texas, in September 2014.
An advocate for sustainable, organic food, Kathryn has worked with numerous clients to help increase demand and infrastructure for local food in Central Texas. She recently left a full-time marketing position at Greenling to focus on building her photography and digital strategy portfolios. Kathryn will be available for freelance work starting in October, 2014.
See that pretty picture up there? Nathan Russell took it.
Contact
Kathryn Hutchison
AustinGastronomist at gmail dot com
512.695.2242
Site Policies
Copyright and Usage Guidelines
The material on The Austin Gastronomist belongs to Kathryn Hutchison and may not be reposted or modified in any way without permission.
Comment Policy
The Austin Gastronomist and its owner reserve the right to edit or not publish (make visible to other readers) any comment posted on the site. Comments perceived as spam will never be published.
Disclosures and Advertising
The Austin Gastronomist is a personal blog written and edited by Kathryn Hutchison. For questions about this blog, please contact Kathryn at AustinGastronomist (at) gmail (dot) com.
Most things reviewed, endorsed, or suggested on this blog are either free to everyone or purchased by the reviewer at the normal market price. On the rare occasion a gifted or complementary product is reviewed that fact will be disclosed explicitly in the review, and the Austin Gastronomist maintains full editorial rights for content. Sponsored posts will be disclosed as such.
Giveaway Rules:
Unless otherwise stated these are the terms and rules for entering giveaways on The Austin Gastronomist: Giveaways are open to United States Residents 18 years of age and older. All entries must be made in the comments or by subscribing to the blog. Entries via email or any other means will not be accepted or counted. Winners are always selected via Random.org Winners will be notified by email and will have 48 hours to respond before another winner is selected. Giveaway Winners will be posted to the Austin Gastronomist on the original giveaway post at the time and date specified in the post.