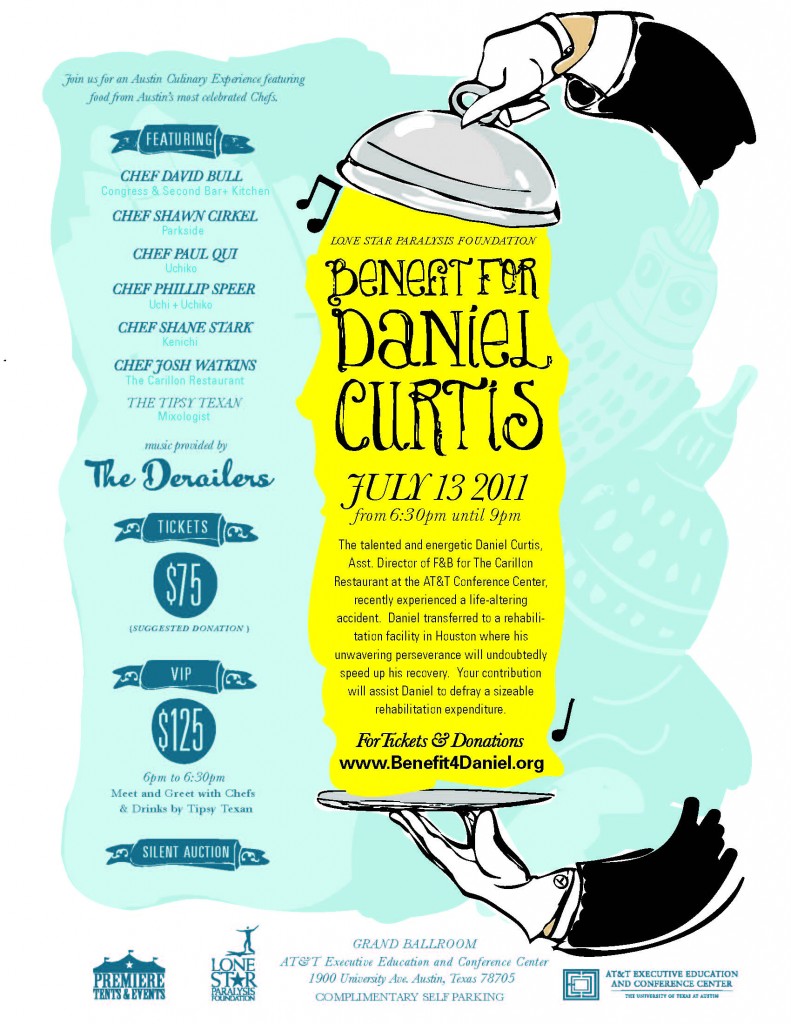 Some of Austin's heaviest culinary hitters are getting together for a great cause next Wednesday at the AT&T Conference Center and Carillon Restaurant. Daniel Curtis, the assistant food and beverage Director there, was paralyzed in an accident last month. Although Daniel is on the road to recovery, the process will be long and expensive. The Carillon, along with Lone Star Paralysis Foundation, will host a benefit for him on Wednesday, July 13th from 6:30-9 pm at The Carillon Restaurant at the AT&T Conference Center.
The benefit has brought together Austin's top culinary talents and will feature food by Chef David Bull of Congress & Second Bar + Kitchen, Chef Shawn Cirkel of Parkside, Chef Paul Qui of Uchiko, Chef Phillip Speer of Uchi and Uchiko, Chef Shane Stark of Kenichi, Chef Josh Watkins of The Carillon Restaurant, as well as beverages by The Tipsy Texan.  Music will be provided by Austin's own country music band The Derailers while attendees participate in a silent auction and raffle.  All proceeds raised will go towards Curtis' recovery.
To buy tickets to the benefit or make a tax-deductible gift on Daniel's behalf, visit http://www.benefit4daniel.org/.