Remember the Alamo?
Okay, sorry. My bad. Of course you "Remember the Alamo." You'll have to forgive the cliche– there really is no way to write about San Antonio without at least mentioning Texas' most famous landmark.
The Alamo, along with San Antonio's River Walk, is definitely worth a visit if you're a first-timer. However, if you're looking to get off the beaten path (and away from the crowds) I recommend visiting Pearl Brewery next time you are in San Antonio.
Earlier this month my boyfriend David and I spent a weekend doing just that, on a trip organized by Austin Food Blogger Alliance Social Chair Bo Duncan, of Three Diets one Dinner.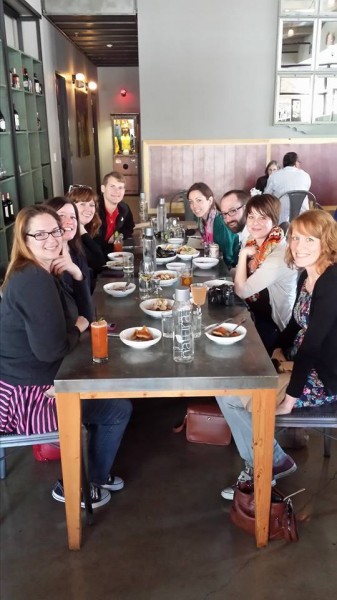 We met up with Bo, plus other Austin food bloggers Evin (Food Good Laundry Bad), Kay (ATX Food News), Allison (Prep Dish), Jessica (Bake Me Away), and Veronica (My Well Fed Life.) Kay was kind enough to let us use her phone to get a picture of the group, above. (Thank you, Kay!)
Pearl Farmer's Market
We had an amazing time together, starting with a visit to the Pearl Farmer's Market on Saturday morning. The market runs from 9 AM to 1 PM, rain or shine, and the main draw early in the day is produce. Look for My Father's Farm or Braune Farms, whose produce is among the prettiest around. Both of these farms are family operations in nearby Seguin (all the foods at Pearl are made within 150 miles of the market.) If you arrive at the market early enough you might be able to snag a bouquet of homegrown flowers, which the Braune daughters grow  and sell for a 4H project. Plan to arrive early and bring cash. The lines for choice fruits and veggies can be long, and cash is generally much faster for busy farmers than credit.
Arcade Midtown Kitchen
After a stroll at the Farmer's Market we all sat down for lunch together at Arcade Midtown Kitchen. Chef Jesse Perez came out to the table to say hello, and proceeded to treat us to samples from the restaurant's brunch, lunch, and dinner menus.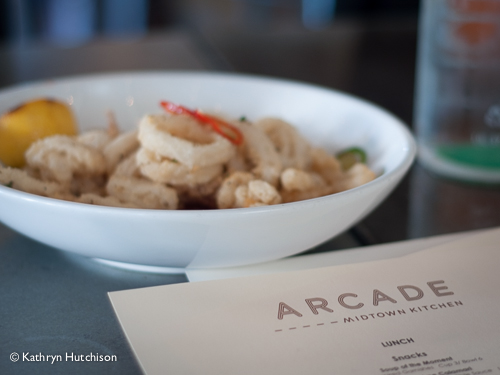 My favorites included crispy calamari with a spicy dipping sauce, eggs Benedict, the hamburger, and a stunning dye-free red velvet cake (colored with beets!). Chef Perez didn't bat an eye when a few members of our group mentioned their own dietary restrictions; he made David's eggs Benny with spinach instead of ham without batting an eye.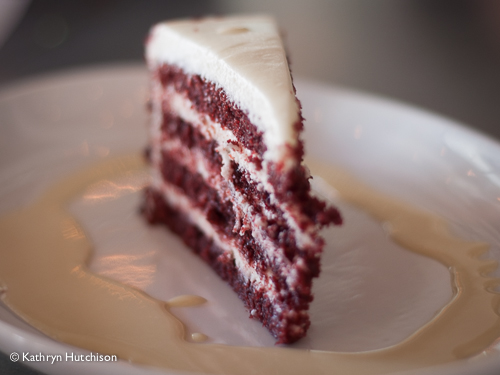 If we hadn't been treated by the chef, I'd have ordered from the restaurant's prix fixe lunch menu, which includes three courses with several gluten-free and vegetarian options. Ordering a few of these to share among friends would be an excellent way to sample nearly all of the restaurant's lunch menu.
Delicious Reasons to Take a Taxi
Of course, wine and spirits are a major draw of the Pearl district. There are so many options, I recommend leaving your car at the hotel so that you can enjoy them all safely. If your hotel is near the River Walk, the Pearl Brewery is an easy mile walk down the way. We really enjoyed this stroll in the afternoon, although a taxi was the right option for getting home in the evening. Do be sure to call ahead for a cab if this is the route you take! Although the Pearl has ample free parking, taxis were scarce after dark.
Our first drinks of the day were at Arcade Kitchen with lunch. Chef Jesse was beaming when he described Arcade's signature drinks: barrel aged spirits with served over baseball sized, hand-chipped balls of ice. "Why do we have a full time barkeep whose job it is to chip ice? Because we can," joked Perez. Barrel aging gave the liquors a deep, mellow flavor. I'd never had a smoother Manhattan than this one. Although I scoffed at the fancy schmancy ice at first, I really appreciated it when the last sip of my cocktail was just as strong as the first.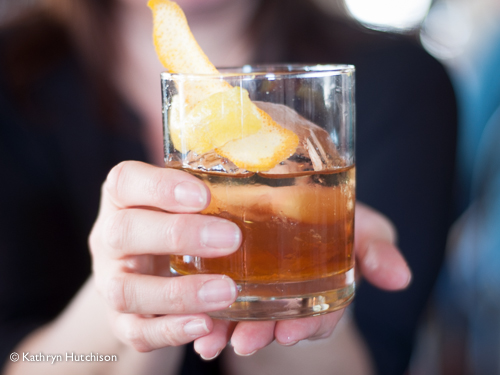 For happy hour, I highly recommend Nao Restaurant's Fire and Ice Happy Hour. The bar and outdoor kitchen are staffed by the charming students of the Culinary Institute of America. You can't beat the price: tacos and beer are just $5 on Saturday afternoons. Their take on sangria was a tasty compliment to salty bar snacks and the spicy tacos being prepared at the outdoor grill.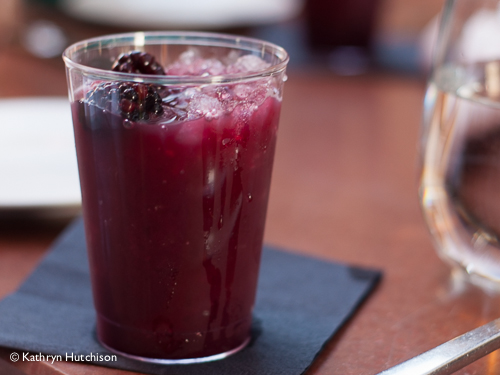 If wine is more your speed, visit Boiler House. They hosted our group for a wine tasting and dessert at the end of the night. We were seated in the restaurant's swanky private room which overlooks the restaurant and provided a special atmosphere for a large group. The mood downstairs in the restaurant was livelier thanks to live music, which is booked nearly every weekend.
The Culinary Institute of America – San Antonio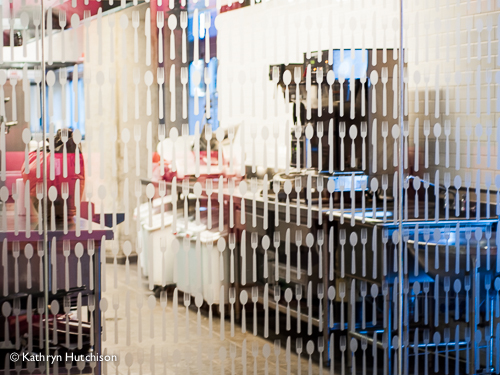 One of the most inspiring parts of our San Antonio weekend was a guided tour of the Culinary Institute of America's San Antonio Campus (CIA.) The full-time culinary school's main focus is training the next generation of great Texas chefs. Lucky for us civilians, CIA also offers cooking demos, guided tours, and culinary enthusiast classes for laypeople. If you are planning a trip to San Antonio, use the CIA's calendar of upcoming classes as a starting point. According to CIA staff these classes fill quickly; I've got my eye on several courses in the next few months.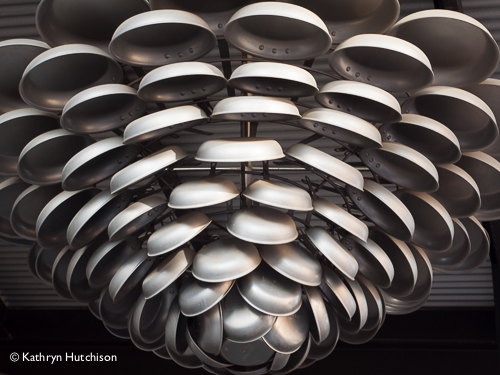 Even if you don't get to take a class at CIA, the campus is a must-visit. Unexpected architectural details like flatware windows and this enormous hanging "Pandalier" outside the school are totally charming. I see objects like this as a litmus test; if an outdoor light fixture made of skillets doesn't excite you, you are not my kind of people.
Nao Restaurant at the CIA
Our tour of the CIA concluded at the school's formal restaurant, "Nao." The restaurant is staffed with culinary students and the menu changes seasonally as students progress through their coursework. Contemporary art decorates a sensual, spacious dining room that overlooks a large open kitchen. We sampled several choices from Nao's new Brazilian menu, and each plate was top-notch.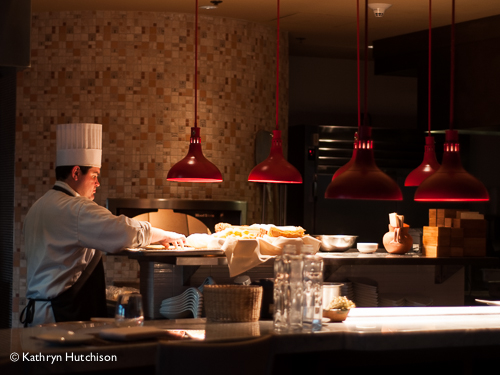 The food was delicious. However the highlight of the meal, for me, was the waitstaff. Since they were culinary students, they were eager to tell us about each dish and talk shop at our table. The students' genuine excitement about the food they had prepared was obvious and contagious. I think I would have enjoyed our meal no matter what the menu.
The TL:DR Version
In recent years the up-and-coming Pearl Brewery District has established itself as one of the main culinary destinations in Texas. Thanks to the influence of the CIA, the Pearl Farmer's Market, and a number of new restaurants featuring local chefs, a visit here is a great way to experience Texas' rich food culture.