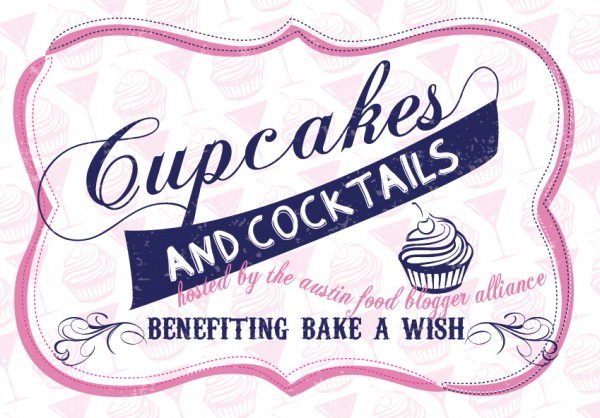 Mark your calendar for next Wednesday, July 25 from 6 to 9 p.m. for "Cupcakes & Cocktails" – a happy hour fundraiser for bringing Bake A Wish, hosted by the Austin Food Blogger Alliance. Bake a Wish is a newly-formed 501(c)(3) non-profit organization whose volunteers provide birthday cakes and other baked goods to children in shelters and foster homes, the elderly, disabled, and other underserved communities in the greater Austin area.
Although Bake a Wish just recently received their non-profit status from the IRS, they have a long history of community service in Central Texas. Their volunteers turned out in spades for Austin Bakes for Japan and Austin Bakes for Bastrop, two community bake sales I helped to organize last year. And in the past three years, Bake A Wish has delivered nearly 2,000 birthday cakes and sweets to people in need in Central Texas. These aren't just any cakes and cookies, either. Their "Goodie Gallery" gives you a sense of what beautiful, special confections the volunteers make for kids who might otherwise go without.
The funds raised at Cupcakes & Cocktails will help Bake a Wish enrich the lives of more children, by purchasing supplies and helping to spread the word about their important mission. Tickets are just $35 and include cupcake-themed cocktails prepared by the Carillon Austin, small bites from chef Josh Watkins, plus nibbles of cupcakes and other sweets prepared by some of Austin's best bakers. There will also be a huge silent auction and plenty of folks to mingle with at the event. (Including yours truly.)
If you haven't gotten the hint, I hope you'll join me at the event! Some of my close blogging buddies are putting it together, and I know it's going to be a lot of fun for a great cause. Let me know if I'll see you there. Pretty please?