Austin's food trailer scene is one of the fastest-moving in the country, and I love keeping track of what's new over at Food Trailers Austin, Austin Food Carts, and the Trailer Food Diaries. These blogs are run by folks who are pretty deep in the scene, and they're a wonderful resource for navigating Austin's mobile food vendors. (You may recognize Tiffany of the Trailer Food Diaries from this interview she did with me earlier this year, and she's currently fundraising for her latest Trailer Food Cookbook: Portland Edition.)
Every time I read my friends' food trailer blogs, I make a note of the places that I want to try, and now there's a stack of post-its by my computer about a mile high. In the interest of gastronomic pleasure (and decluttering some of those post-its), I met up with a friend last Friday to check out some of the newer trailers in town that we both wanted to visit.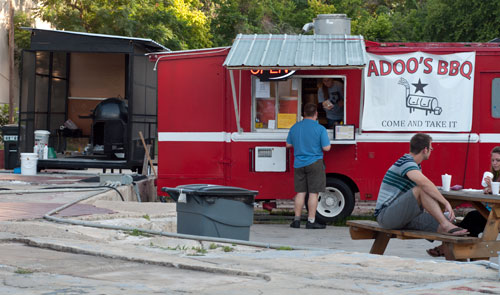 We started the night at Adoo's BBQ near the Palmer Events Center on Barton Springs Rd. This spot has good reviews on Yelp and other social media, and our visit there lived up to expectations. We arrived around 7:30 and ordered a heaping plate of beef brisket. Owner Adam plated it up for us and told us a little bit about the trailer; he started it with a loan from his Grandma, who gave him the nickname "Adoo." The brisket — smoked daily over pecan chips in the smoker next to the trailer– was tender and hot. Adam's spicy barbecue sauce was the perfect complement to the bread I used to sop it up.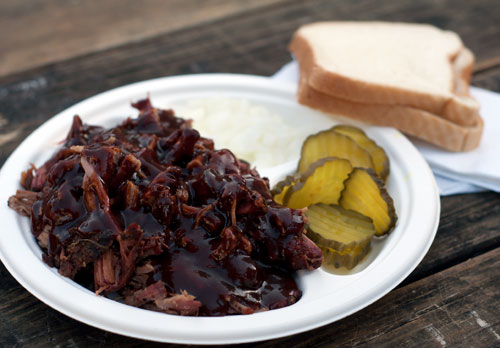 Next time I visit Adoo's I'm going to make a point to save room for BBQ beans, made fresh daily by cashier Stephanie, and I'd like to try some smoked sausage. They were sold out on Friday night by the time we arrived, which was just as well since we were hitting up other trailers that night.
After Adoo's we went to Jessie St. Eats, a well-established trailer park a little ways south. Jessie St. always has a great mix of trailers on its property, and there is great people watching in the evenings. (Bring your own lawn chair to guarantee a good seat.)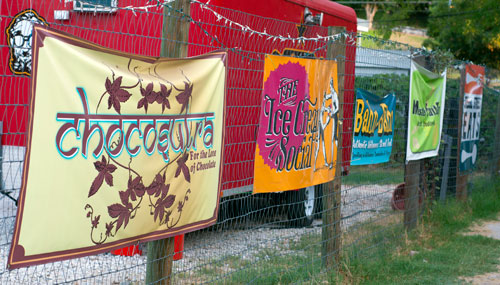 There were a few trailers at Jessie St. Eats that caught our eyes when we arrived: Choco Sutra for its sensual menu of drinking chocolates, The Ice Cream Social Bus for its delectable looking ice cream flavors (PEANUT BUTTER MOLE!) and toppings (CHOCOLATE DIPPED KETTLE CHIPS!), and Bahn Bahn for its $6 foot-long Bahn Mi Sandwiches.
None of these were on the agenda for Friday, unfortunately. We wrote them down on a Post-it note, though, so that we would remember to come back another week. Instead, we opted to try Gypsy Kit, a funky purple trailer towards the back of the trailer park. Open since May 2012, the Gypsy Kit has garnered praise online, and their menu has a lot of great looking savory options. The Cali wrap I tried on Friday was a solid dinner choice, but I wish I had ordered more adventurously from the board of specials displayed outside the trailer. (I'm talking about you, bacon kimchi fries.)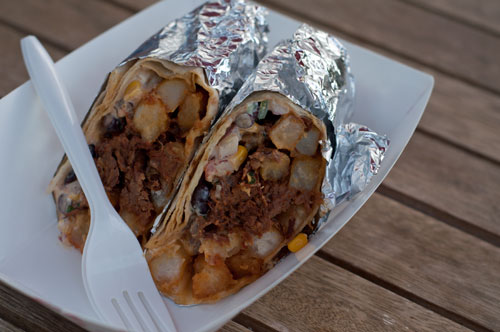 We finished the night at South First Food Court, where my friend Evan and her husband RJ own Bufalo Bob's Chalupa Wagon. South First is one of my favorite trailer parks in town because the trailer owners there do a great job of hosting events, talking with patrons, and making the atmosphere welcoming and friendly. Every Thursday they have live music, and on Friday nights, RJ breaks out the DVDs and plays old movies on a projector next to the Chalupa Wagon. (Abbot and Costello was on the docket last Friday, The Three Stooges the week before.)

Lard Have Mercy is the newest trailer in this park– owner Chris opened up shop just two weeks ago. The trailer's slogan is "Deep Fried and Dee-lish," and its menu lives up to the promise. Everything is deep fried, and clever names like "Hollaback Girl" brand offerings like deep friend bananas on a stick with Lard Have Mercy's signature tongue-in-cheek style. The dusky darkness that enveloped the trailer park while we waited for our order was just right for movie watching. However, I didn't have enough light to get a picture when Chris delivered our powdered sugar-dusted banana with a side of raspberry dipping sauce. Looks like I have the perfect excuse to go back another time and try it again!