We're just about to hit the toughest part of the summer in Austin. If you're a local you know it well. Every day the temperature tops 100 degrees, and we're lucky if we dip below 80 degrees overnight. Did I mention it's also humid, and there are mosquitos? It's gross, y'all.
Texas in August isn't all bad, though. It is also okra season! These verdant pods flourish when most other crops just give up for the summer. Learning to cook with them is a must if you're interested in supporting local food during August; okra is often one of just a few crops available in wide supply at the markets this month.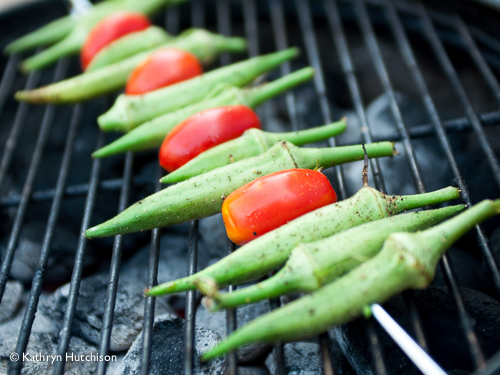 The okra crop at Springdale Farm in Austin is particularly great right now. Springdale's okra is tender, not too slimy, and holds just a hint of sweetness. Paula and Glenn harvest it while it's small, so it can be used in nearly any okra recipe. (Larger, tough pods are better suited to chopping and stewing, and can be difficult to prepare whole.) During a recent trip to the Springdale Farm, I got a pound of this okra along with a pint of Juliet tomatoes– another deep summer favorite.
I decided to grill up the okra and tomatoes together for a simple summer side dish. You hardly need a recipe for this– simply toss the veggies with some olive oil and seasoning, skewer them up, and place them on a grill over medium-high heat. Cook 'em up for about 3 minutes on each side a you're done!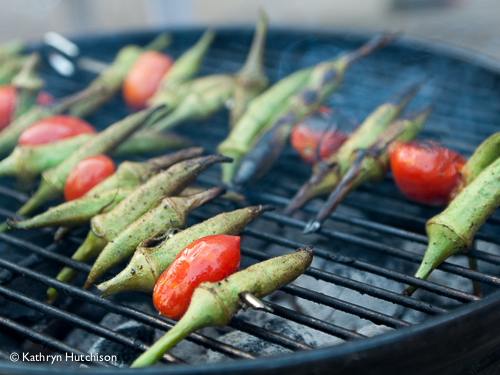 This dish was a lovely change of pace from the gumbos and stews I typically make with okra. Since the pods were all about the side of my thumb, the whole okra were tender and flavorful. The smoke and heat from the grill kept the pods from getting slimy, too.
We ate this right off the grill, but the veggies were sturdy enough to cook ahead and stay out for service for a cookout or party. They did not reheat well in the microwave– the okra lost its seductive crunch– so plan to cook just enough to enjoy the same day you cook it.
Easy Grilled Okra and Tomatoes
A fast, easy recipe for grilled okra and tomatoes.
Ingredients
1 pound whole, fresh okra
1 pint Juliet tomatoes
2 tablespoons olive oil
1 teaspoon salt
1 teaspoon black pepper
Instructions
Heat a charcoal or gas grill to 400 degrees F.
While grill is heating, toss okra and tomatoes together with olive oil, salt, and pepper in a large bowl.
Thread whole okra and tomatoes onto metal or wood skewers, or place in a grill basket.
Grill for 3-4 minutes on each side, until tomatoes and okra are deeply charred.
http://austingastronomist.com/easy-grilled-okra-tomatoes/