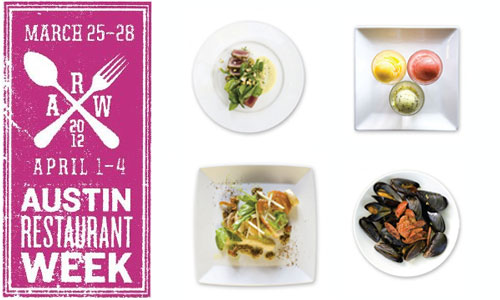 Calling all you cheapskates, foodies, and staycationers– it's time for Austin Restaurant Week (ARW)! Now in its fourth year, ARW 2012 boasts 47 participating restaurants, which will offer prix fixe lunch, brunch, and dinner menus at lower-than-usual prices ($11 – $16 for lunch/brunch and $26 – $36 for dinner.)
Don't think I'm judging when I call out the deal-seekers among us; I'll be hitting up several of my favorite spots during Restaurant Week, taking full advantage of the discounted menus. If  you plan to brave the crowds with me, don't forget to:
Scope out menus for all the restaurants online before you go
Make your reservations early. If the reservations available through the website are full, try calling the restaurant directly
ARW patrons are notoriously flaky, so it's worth calling popular spots the day-of to see if any tables have opened up
Budget extra for wine pairings and cocktails
Tip your servers and bar staff extra– just because the tab is cheap doesn't mean you should be!
Here  are the restaurants and menus that I'm craving this time around:
Asti: Rami and I ate dinner at Asti the night we got engaged, so I have a serious soft spot for this Hyde Park bistro. I count their ricotta brullee with brandied cherries– featured on the ARW dinner menu— among my top five desserts in the city.  If you want to splurge, add an order of the white bean dip with breadsticks to your prix fixe selection.
Botticelli's South Congress: Their $36, four-course ARW dinner is a great deal, with entrees like the Pork Cotto in Camachia and the  Cherry Venison Bolognese with Sweet Potato Gnocchi that run $25 on the regular menu. They're offering a wine pairing, too, if you're feeling boozy.
Foreign & Domestic: I love eating at F&D any time, but chef Ned Elliott's Prix Fixe meals are always my favorites. He's put together a killer three-course dinner for $36; I'm especially intrigued by the Roasted Redfish with Strawberries and Brown Butter.
Roll On Sushi Diner: My friend Cathy introduced me to this sushi spot on Burnet Road this week, and they charmed the chopsticks off me! Roll On's usual lunch special gets an upgrade for ARW, and they're offering an appetizer along with signature fusion rolls like The Guaca-Rolly and The Beefy Texan for just $11.
the backspace: I've been meaning to check out Shawn Cirkiel's latest restaurant, and the ARW three-course meal for $26 is just the excuse I needed. Go with a friend and plan to share– their ARW dinner menu allots one pizza for every two people in the party.
TRACE:  This swanky restaurant inside the W Hotel has hands-down my favorite ARW lunch menu. I'm having a hard time choosing between their Lamb Burgers with Tatziki Mayonnaise and the Roasted Loch Duart Salmon since both are favorites of mine on the regular menu, too. Pro tip: if you plan to stop here for lunch, make it a long one. You'll want to hang out in the ultra plush Living Room lounge outside the restaurant for at least one cocktail afterward.
Uchiko: Duh. Uchiko's the hottest restaurant in town right now, and you'd be silly not to at least try to get a reservation there on the cheap. Their famous Brussels sprouts are on the ARW dinner menu, too!  I'll be there next Monday with girlfriends toasting to Paul Qui's recent Top Chef victory.
Images in this post are courtesy Austin Restaurant Week.