I blogged this recipe for Greenling as part of my job there, and they were kind enough to let me share it on my site, too! 
Last week I had the pleasure of dining at Uchiko, Top Chef Paul Qui's now-famous restaurant in Austin. Although Uchiko is renowned for sushi, my favorite dish of the night was Qui's lemon chili brussels sprouts. He cooks them until they're very crispy and nearly black on the edges, and tosses them in a salty sweet sauce with flavors of chile, fish sauce, caramel, and lemon.
When I received Hillside Farms' gorgeous Brussels sprouts as a "surprise me" in my Greenling order this week, I set out to adapt Qui's dish as a home-cooked recipe.
After four attempts, I'm happy with my recipe, but I have to admit that it's no match for Uchiko's. Their dish is impossible to recreate without a deep fryer plus the magic touch Paul Qui brings to the kitchen.  However, my version stands as the best Brussels sprouts I've been able to cook up at home, and it will tide me over until I can get back to Uchiko for the real deal.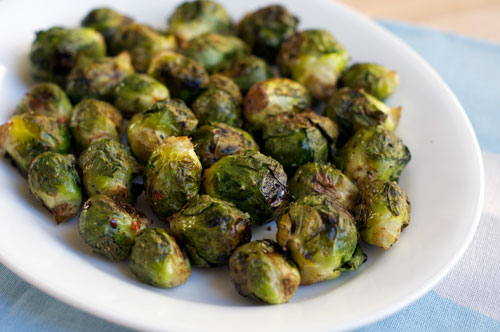 Sriracha Roasted Brussels Sprouts with Lemon Caramel Vinaigrette (serves 4)
1 lb brussels sprouts
3 tablespoons grapeseed oil
1/2 teaspoon sea salt
3 tablespoons sugar
3 tablespoons Asian fish sauce
2 tablespoons fresh lemon juice, plus extra for seasoning
1 heaping teaspoon Sriracha hot sauce
1 clove garlic, crushed
1/4 teaspoon black pepper
Preheat oven to 400 degrees. Trim the sprouts by cutting off the stem end and peeling back a layer of leaves. Cut any large sprouts in half. Rinse sprouts in a bowl of cold water, and dry them with a clean tea towel.
Place sprouts in a single layer on a foil-lined cookie sheet and drizzle with grapeseed oil. Toss to coat, and sprinkle generously with salt. Bake for 45-55 minutes, stirring after 20 minutes, until crispy and tender. The outer leaves should be very dark, and the sprouts will be tender and fragrant when they are finished cooking.
During last 10 minutes of cooking, place sugar in a 12-inch frying pan over medium/high heat. Stir frequently with a wooden spoon until sugar is melted and amber colored. This should take about 2 – 3 minutes. Add ½ cup of very hot water (mixture will bubble), and stir until caramelized sugar is completely dissolved. Stir in fish sauce, lemon juice, Sriracha, garlic, and black pepper. Continue to cook, stirring constantly, for 4-5 minutes, until mixture reduces. Remove from heat and set aside.
Arange cooked Brussels sprouts on a serving dish and top with warm vinaigrette. Taste and season sprouts with additional lemon juice, salt and pepper before serving warm.