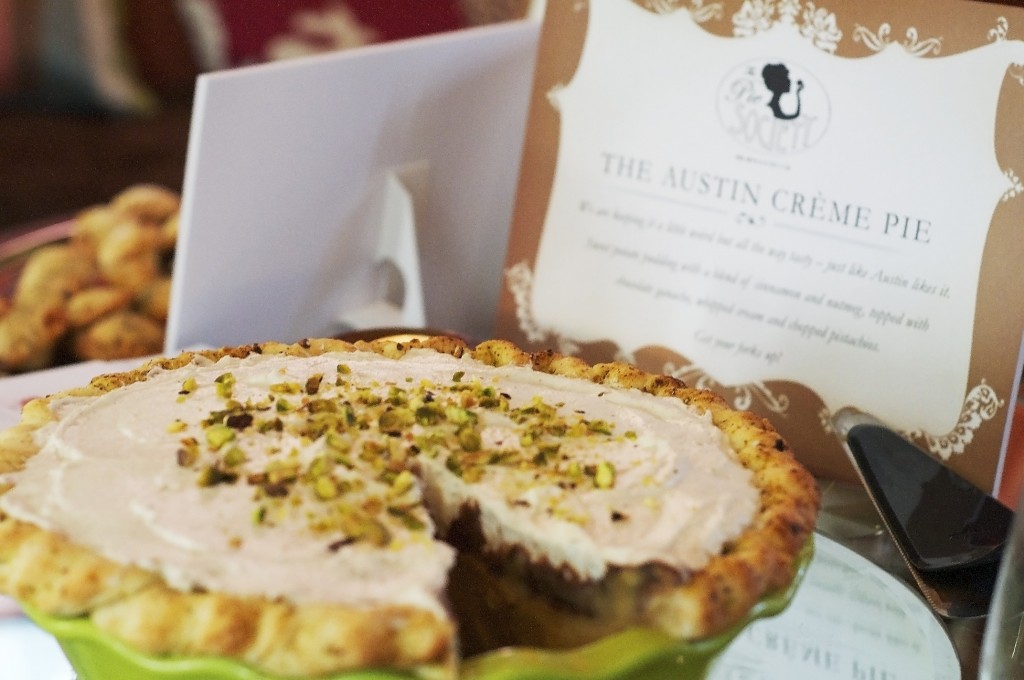 I just got home from a lovely Bastille Day Party hosted by Emily Ingle and Lindsay Leslie of The Pie Society. I met up with several other local food bloggers there to celebrate France, drink champagne and feast on The Pie Society's line of sweets. The Pie Society is one of several outstanding Austin pie businesses; Emily and Lindsay's specialties are bite-sized pies called crimps, full-sized sweet and savory pies and tarts. They deliver to most of the Austin area, and I first met them when they supported the charity bake sale, "Austin Bakes for Japan," that I helped to organize earlier this year. The Bastille Day party was at House Wine, a wine bar in south Austin near the Zach Scott Theatre.
I had never been to House Wine before, although it's been a popular hangout years now. There is a small party room in the back of the bar where Emily and Lindsay set up a spread of french tarts, crimps (mini pies) and "The Austin Creme Pie" (pictured at top of page), a sweet potato pie with a layer of chocolate ganache and whipped cream, topped with pistachios. My favorite crimps of the evening were the strawberry kiss and a spicy bacon variety.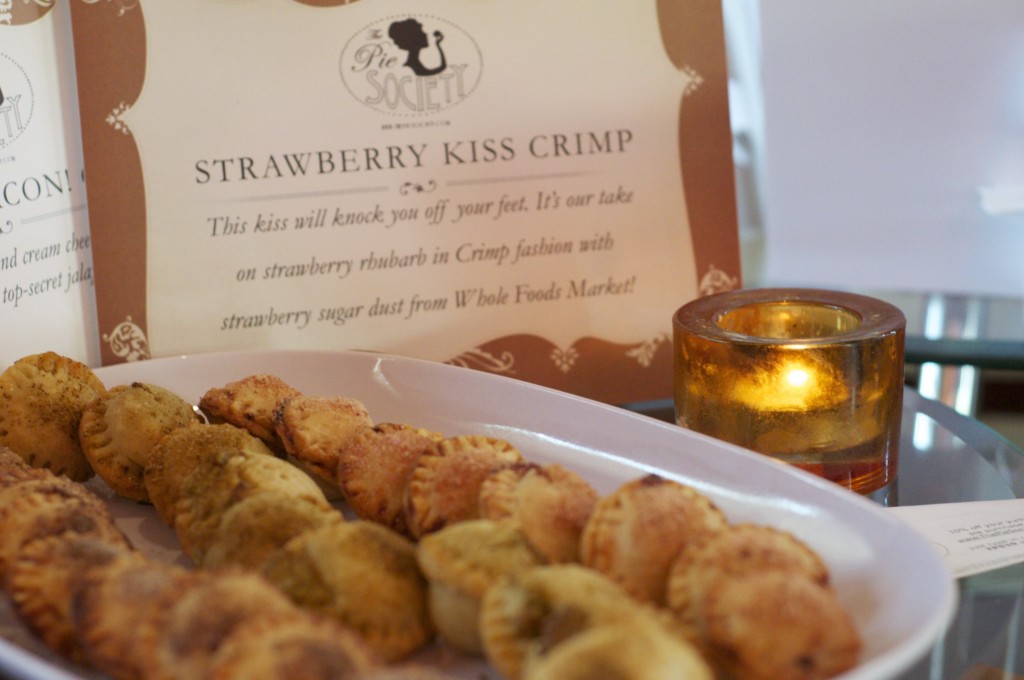 The tarts were gorgeous, but maybe too gorgeous! No one wanted to be the first to cut into these beauties.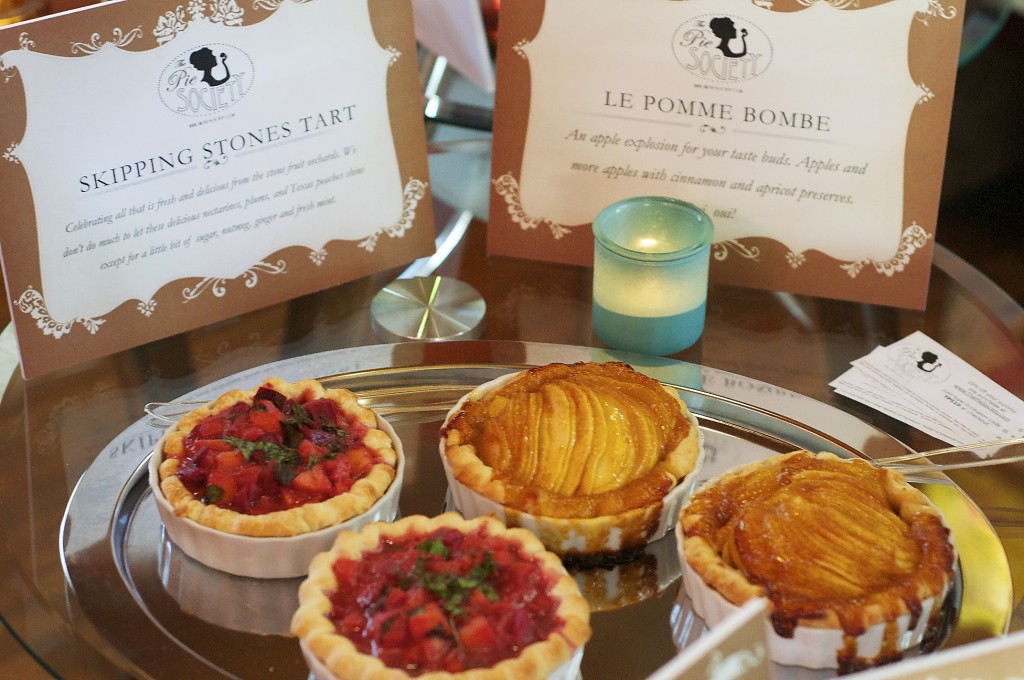 I balanced out all the sweets at the party with a slider from The Hot Dang Grain Burgers.  I had seen the full-sized version of these grain burgers in the freezer section at Wheatsville Co-op, but I never realized that a fellow food blogger , Martha of the "Not that Martha," was behind the products. Martha uses local eggs and whole grains like organic Texmati rice in her burgers, which were heads above the usual veggie burger offering. Martha mentioned that the patties are sold as a burger or as part of a salad at Hat Creek Burgers on Burnet Road if you want to try one before committing to a whole package. I'm just going to commit to a whole package next time I'm at Wheatsville, thank you very much.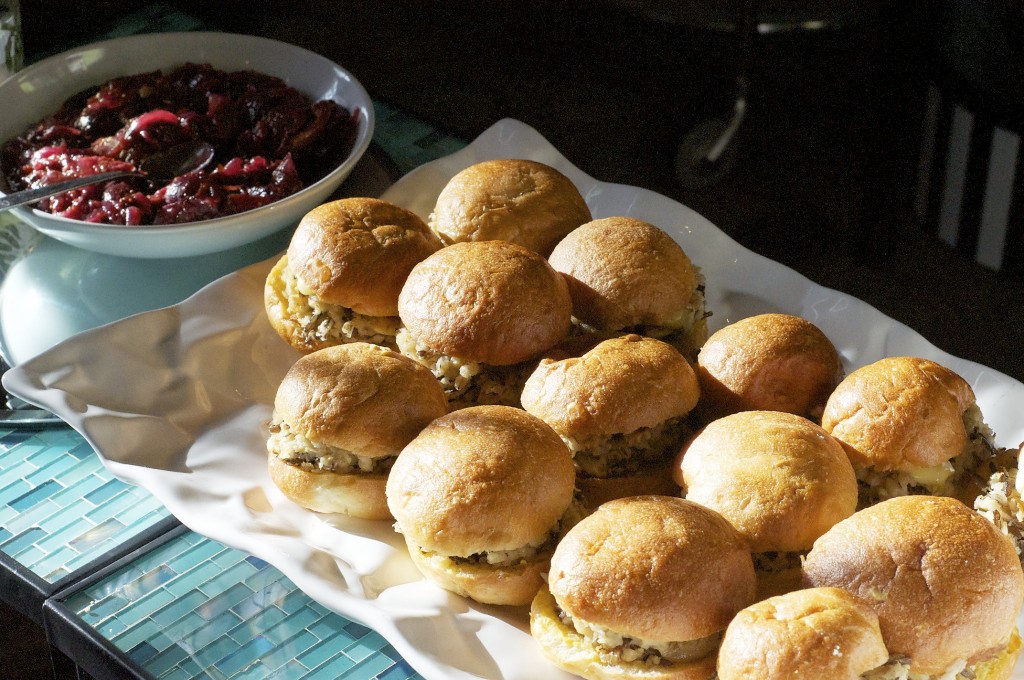 Besides chowing down on delicious food, I got the chance to catch up with some of my blogging friends and meet new ones at the party tonight. Throughout the conversations, I discovered that all three small business owners– Martha of The Hot Dang and Emily and Lindsay of The Pie Society– first discovered their love of food through blogging. With over 200 active food blogs in Austin, it seems likely that our city will be seeing many more of these culinary entrepreneurs in the future. I hope that all of them create food of the quality that I tasted at tonight's party, as that will mean only good things for the city's dining scene. As the French would say, "Vive la cuisine en locale!"