There's good news and bad news this week if you live in Central Texas. First, the bad: it's about a million degrees outside with barely a chance of rain. Now the good: all this hot weather is the perfect excuse to hang out by the pool and drink cucumber basil mojitos. Cucumbers are growing like crazy in our dry climate and there's no chance of rain to spoil your pool party.
I know that's pretty weak good news, but it's hard to find a silver lining when there are no clouds in sight. I saw the 7-day forecast on the news this morning and had to chuckle, because all the triple digit temperatures barely fit into the graphic on screen!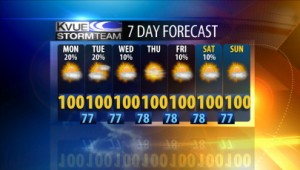 Crazy, right? Luckily our local farmers are fighting the good fight and growing tons of delicious produce for us in the midst of this drought. Here's what they're sending our way in the Local Box:
Here's what I'm planning to cook with the bounty.
Saturday: If I can stand to turn my oven on in this heat, I'll roast a whole chicken using this
Lemon Basil Roast Chicken
recipe and serve sliced peaches and blueberries on the side, along with some biscuits. If I don't feel like turning on the oven, I'll stick the
chicken in the slow cooker
and use the lemons and basil to make
basil lemonade
.
Monday: I'll use the leftover pita bread to make these
onion pita pizzas
 and serve it with sliced peaches on the side.
Tuesday: Leftover awareness day!
*Note: I'm going to start cross posting my meal plans to the Greenling blog, "Eating Out of the Local Box."  The posts on The Austin Gastronomist will still include food art and a bit more about my personal life than the Greenling Blog menu, but the basic content and menu ideas will be the same. I'll be adjusting the format of the menu a bit in the coming weeks to make it easier to follow and adapt for other types of cooking– please feel free to give feedback about the recipes and  formats. I'd really appreciate it!