Megan (Stetted) was one of the first bloggers I ever met back in 2010, and we've been friends ever since. Over the years we've cooked together, gossiped together, traveled together, cried together (technically I cried, she comforted), and these days our friendship is about a lot more than just blogging. She's expecting her second baby, and I helped host a shower for her last weekend with my other bestie Steff and a few other ladies in Austin.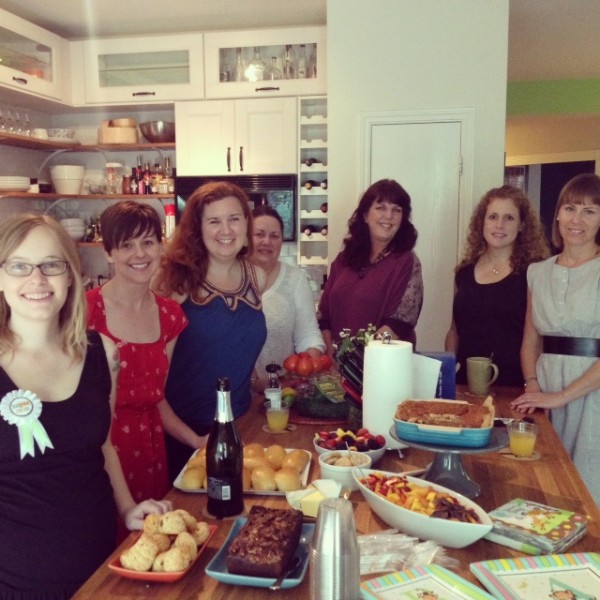 The purpose of the shower was to gift Megan with lots of made-ahead goodies for her freezer. My contribution was supposed to be a venison version of these Chicken Tamale Bites. They are such an easy dinner, and very flavorful with homemade enchilada sauce, early season farm peppers, and my family's venison for the filling. The tamale bites would have been the first thing I cooked in my new apartment kitchen.
Except my new apartment kitchen really sucks. When I went to brown the venison on Thursday night, the range wouldn't light beyond a tiny flame. It would tease me by lighting initially, and then receding to a flaccid blue haze inches from the bottom of my skillet. After an hour of fiddling with the burner and an Aim-N-Flame, I realized I was getting a little high from the gas and my cause was lost. I couldn't cook for Megan after all. I ended up ordering some banana bread from a local bakery and calling it a day.
Lucky for me, Megan's the kind of friend who didn't blink twice at my sad little loaf of banana bread. She's been by my side through a divorce, rebound dating, and now while I learn how to navigate a healthy new relationship. Store-bought banana bread is nothing compared to some of the other things she's seen me through in the past year.
The other ladies at the party had made gorgeous homemade dinners, and Megan herself has been stocking the freezer in the past few weeks in preparation for a piece on make-ahead meals for Simple Bites. Many of her out-of-town friends made goodies for a virtual shower as well! It's obvious that Megan's friends really love her, and so do I. Even if sometimes that best I can do is store-bought banana bread.
Here are some links to the other dishes Megan's friends made, both for the Austin shower and for the virtual shower. I honestly can't recommend the bakery where I bought the banana bread, so I'm staying mum on their name. Hopefully someday soon my landlord will fix my range, so that I can post my original tamale recipe.
Chile and Sausage Oven Frittata – Bluebonnets and Brownies
Creamy Chicken Enchiladas – My Kitchen Addiction
A Week of (Make Ahead) Spring Salads in Jars – Simple Bites
Soft Pretzel Bread Pudding with Chocolate – Dessert for Two
Oatmeal Peach Betty – Blinded by the Bite!