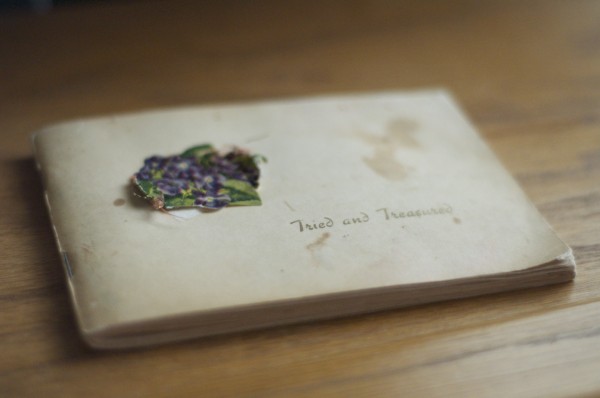 I found this little cookbook in a box of heirlooms my Grandma Hutchison passed down to my sister Beth and me, after she and Grandpa moved into a retirement community.  It was published in the 1950s by the Polk County T.T.T., a ladies' charitable organization to which Grandma presumably belonged.
The cookbook has the grease stains, tattered edges and handwritten notes that distinguish good old cookbooks from the rest, and reading it feels a little bit like having coffee with Grandma and her girlfriends in the 1950s. I can imagine them now, a group of dedicated home cooks and renegade fundraisers, sitting around a mimeograph machine (probably in a Methodist church basement), printing and assembling these cookbooks. Imagining my grandma in this way is especially poignant to me, as it identifies her and her friends as early food bloggers of a sort. Just as I have built a community of friends through food, so did Grandma Hutchison and the ladies of T.T.T.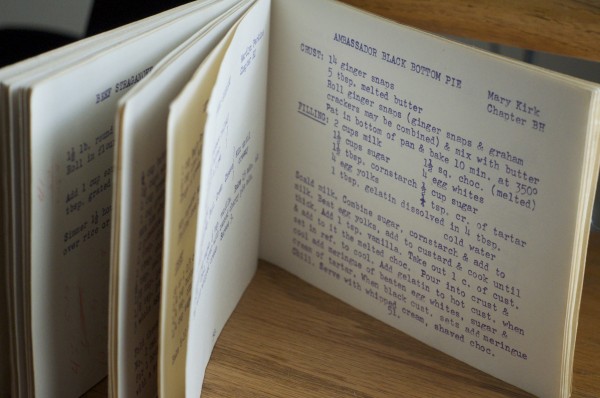 When Beth and I were looking through Grandma's cookbooks, one of the first recipes that jumped out as us was "Ambassador Black Bottom Pie." Our curiousity was piqued in part by the recipe's unusual name, in part by its intriguing combination of flavors: chocolate, ginger, vanilla creme, egg whites.  We were also in the mood for pie. (Who isn't these days?)
From the internet, I've learned that black bottom pies always feature a chilled chocolate custard along with some kind of whipped topping, either meringue or cream based. They probably originated in the South, and the name "black-bottomed" comes from the color of the chocolate layer. This pie is old school in that it gets its fluff from raw, whipped egg whites. Skip this in favor of another type of pie if you don't want to eat raw eggs or if you're immuno-suppressed.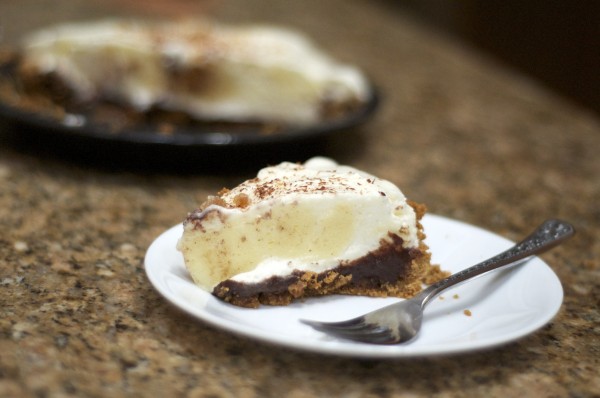 I've made Ambassador Black Bottom Pie twice as the recipe was originally written. Parts of it worked wonderfully as-is (the luscious chocolate custard), and parts of it needed to be updated to reflect the proportions of modern ingredients (the crust and meringue). Now that I've finished round six of pie making, I feel comfortable sharing my adaptation of this classic dessert.
Ambassador Black Bottom Pie (serves 8 )
Crust:
1 1/2 cups graham cracker crumbs (11 Honeymaid Graham Crackers, crushed)
1/4 cup granulated sugar
6 tablespoons butter, melted
Filling:
2 cups whole milk
2 cups granulated sugar, divided
1 1/2 tablespoons cornstarch
4 egg yolks
1 teaspoon vanilla
1 tablespoon gelatin dissolved in 4 tablespoons cold water (1 1/2 packets of Knox Gelatin)
1 1/2 squares baking chocolate, melted
2 egg whites
1/4 teaspoon cream of tartar
Topping:
1 cup heavy cream, whipped
1/2 square baking chocolate
First, prepare the crust. Preheat oven to 375 degrees. Mix melted butter, graham cracker crumbs and granulated sugar until well combined, then press that mixture into a 9-inch pie plate. Bake in preheated oven for seven minutes, then set aside to cool completely.
For filling: scald milk in a double boiler over medium heat, stirring occasionally, until it is steaming and begins to froth around the edges (not boiling!). Add 1 1/2 cups sugar and 1 1/2 tablespoons cornstarch to the milk and stir for a few moments until the sugar is dissolved. Turn heat down to medium-low. Beat the egg yolks in a separate bowl, then temper them by beating in a few tablespoons of the hot milk mixture before adding the warmed yolks to the double boiler. Add vanilla. Cook the custard, stirring constantly, until it thickens enough to coat the back of a metal spoon (around 178-183 degrees Farenheit). Remove the pan of custard from the double boiler.
Measure out a cup of the hot custard into a small bowl and add the the melted baking chocolate. Stir to combine combine, then spread the chocolate custard into the prepared pie crust. Store the chocolate filled pie in the refrigerator to set.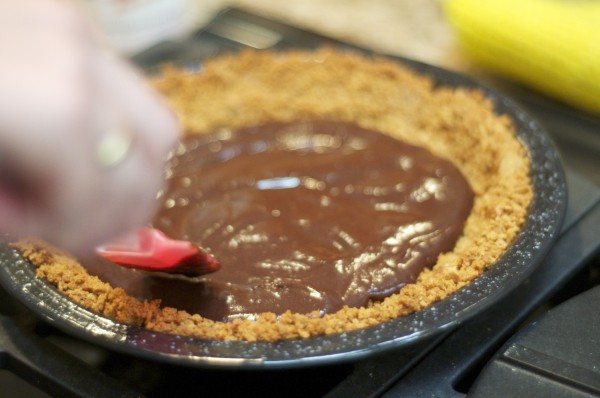 Next, add the prepared gelatin to the remaining hot custard. Set aside to cool. Use an electric mixer to beat two egg whites. Add the remaining 1/2 cup of granulated sugar, along with the cream of tartar a few tablespoons at a time, and continue to beat the egg whites until stiff peaks form. Stir half the egg white mixture into the cooled vanilla custard to loosen it, then fold in the remaining egg whites. (You can see in the top picture of the pie that I did a poor job of mixing together the custard and the egg whites. Whoops! It tasted fine.) Gently scrape the meringue onto the cooled chocolate custard.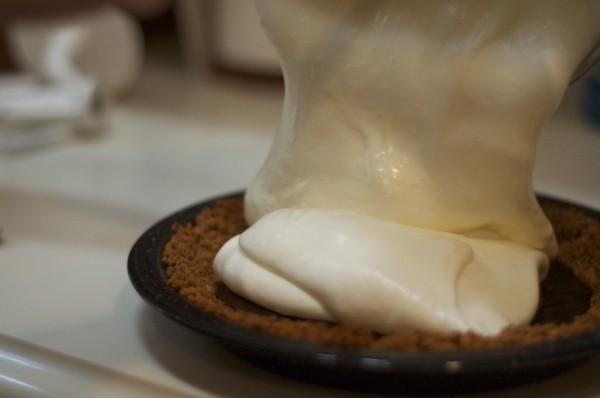 Store the pie in the refrigerator to set, at least four hours. (Overnight is better.) Before serving, garnish the pie with whipped cream and a little grated baking chocolate. I experimented with adding candied ginger to the top, too. It looked really pretty on the slices I served right away, but it had just melted into the whipped cream by the next day.