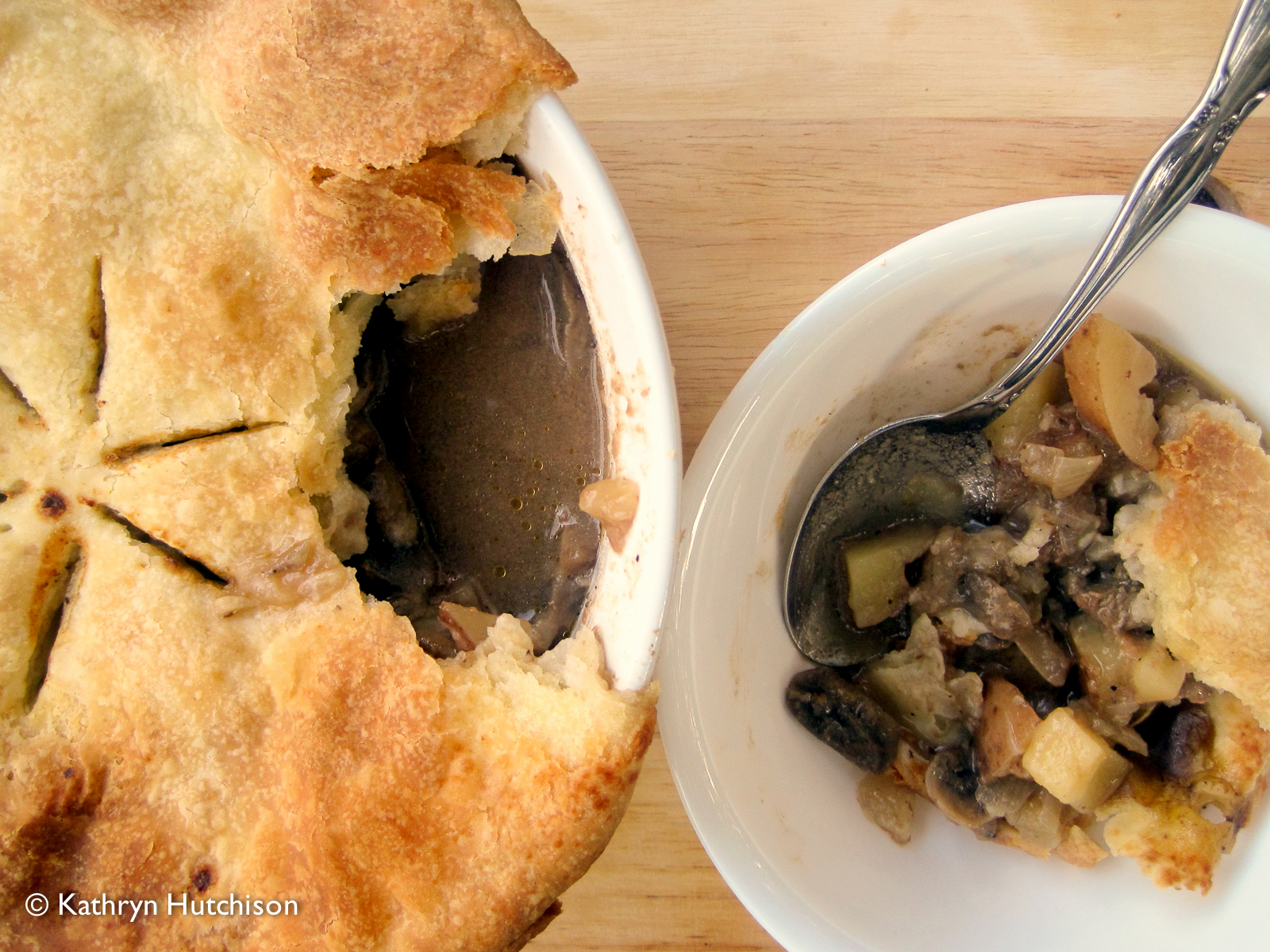 This recipe is just the thing for a cold, rainy night when you want to eat comfort food, snuggle under a blanket on the couch and watch some football.  (We haven't had any cold rainy nights in Texas for several months, but the delicious winter flavors in this recipe at least help you imagine what that might feel like.)  I wasn't originally planning to make a red meat-based dish for my lineup of Austin Beer Week recipes, but when we got some beautiful white mushrooms as a surprise in our Greenling box this week I knew immediately that I wanted to use them with potatoes and venison in a pot pie of some kind. I adapted this recipe from Mrs. L's Steak and Ale Pie with Mushrooms on Allrecipes.com.  I replaced her generic ale with Fireman's #4, a local favorite, brewed by Real Ale in Blanco, Texas.  Fireman's is a light ale, and I chose it for this recipe because I thought it would complement the game flavors of the venison and mushrooms perfectly.  I left the delicate skin on the red potatoes for texture and flavor, and upped the garlic from Mrs. L's recipe considerably, from two cloves to four.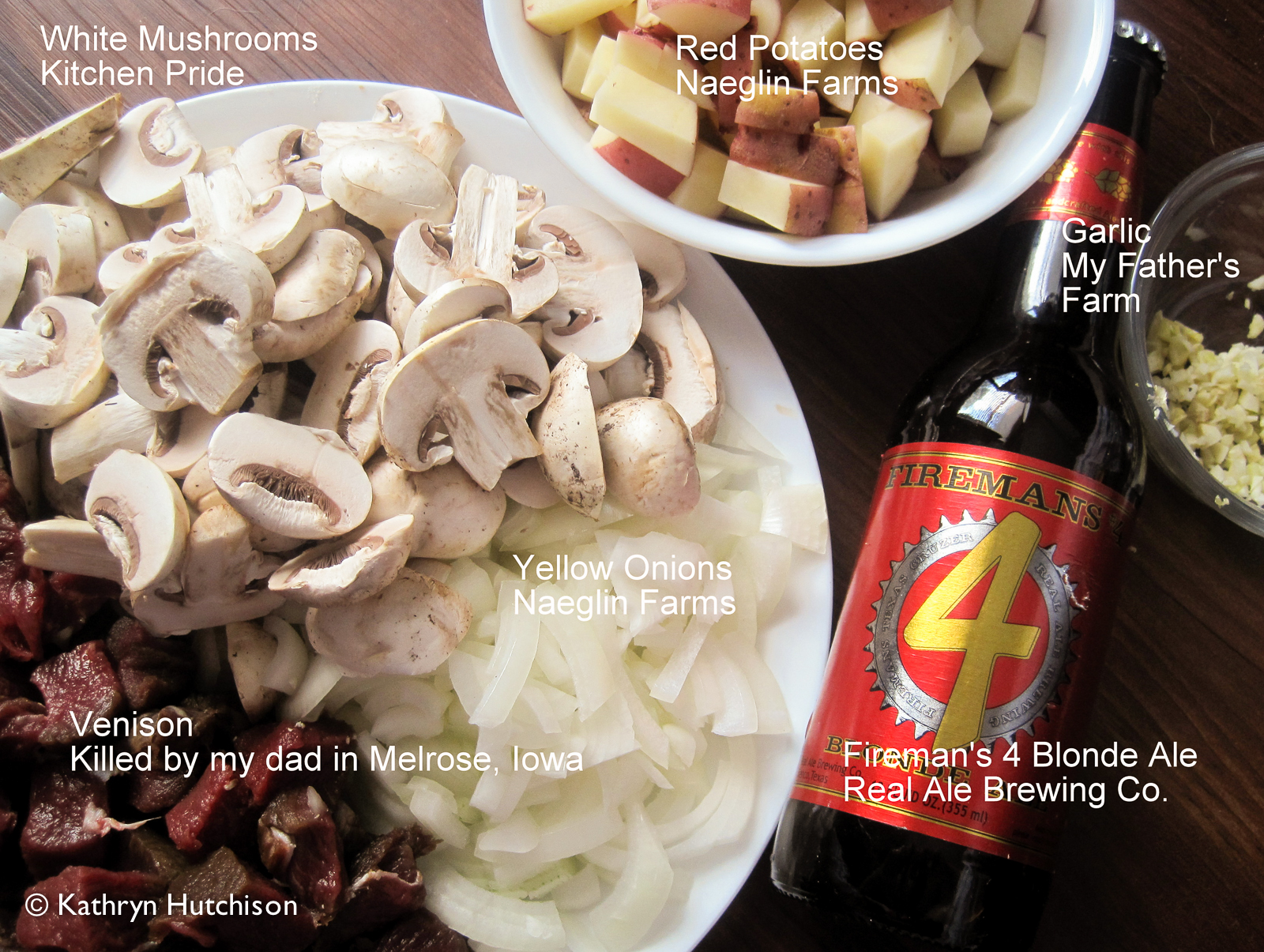 The venison I used in this recipe was a butterfly chop killed and processed in rural Iowa on my family's farm.  If you don't have a hunter in your family, you can purchase free-range, grass fed venison from Broken Arrow Ranch on site in Ingram, Texas or here in Austin at Whole Foods Market.  This recipe would also work well with sustainably raised beef stew meat.
Finally, please, please, please make your own pie crust if you're able.  You probably have the ingredients in your pantry, and even if your pie crust isn't as pretty as store-bought (mine wasn't) it will taste infinitely better.  Not sure how? There are excellent step-by-step instructions with pictures at The Pioneer Woman and Joyful Abode.  FYI, their recipes produce 2-3 times more crust than this pie needs, but the pictures and method are universally helpful and worth studying before your first pie crust adventure.
Venison Pot Pie with Fireman's #4
Ingredients
Crust:
1 cup all purpose flour
1/2 teaspoon salt
1/3 cup very cold shortening or butter
4 tablespoons ice water
Filling:
1 pound venison stew meat, cubed
3 tablespoons all purpose flour
2 tablespoons olive oil
1 onion, diced
1 (12 fluid ounce) bottle Fireman's 4 Blonde Ale
4 cloves garlic, minced
4-5 small red potatoes, diced, about 2 cups
16 white mushrooms, sliced into fourths, about 2 cups
seasoned salt to taste
pepper to taste
Instructions
Prepare pie crust: mix flour and salt in a small bowl. Cut butter into flour mixture using a pastry blender, two butter knives or your fingers, until mixture is crumbly and blended. (The largest pieces of butter should be about the size of green peas, completely coated in flour.) Mix in ice water one tablespoon at a time with a fork. Form dough into a ball, wrap with plastic wrap, and chill in the fridge for at least an hour. The dough keeps will keep in the fridge up to 48 hours.
Prepare filling: Cube venison and dredge (coat) in flour. Heat olive oil in a large pot over medium heat. Add minced garlic, onions and venison, stirring frequently. Once meat is browned, pour beer in and scrape the bottom of the pan to deglaze. Stir down the beer and add sliced mushrooms and diced potatoes. Don't worry if liquid doesn't completely cover the veggies, they will cook down. Season with salt and pepper; I used a 1/2 teaspoon of each. Bring liquid to a boil, reduce heat to medium low. Simmer uncovered for 45 minutes, stirring occasionally. Check on the pot periodically during this time and cover it if liquid level seems to get too low. Filling is ready when meat and potatoes are tender and liquid has reduced. Carefully pour the hot filling into a 1.5 quart round casserole.
Preheat the oven to 400 degrees. Place casserole dish on a cookie sheet. (This makes it much easier to transport in and out of the oven.) Roll out the chilled pie crust and place it on the casserole dish. Pinch crust against the edges of the dish with your fingers and use scissors to cut away any extra crust from the sides of the casserole. Vent the crust by cutting 5 or 6 slits in the top center of the crust with a sharp paring knife. Use pot holders to transfer the pie to the oven. Note: This was my first try at homemade crust and I felt like I might have ruined it because it looked very different from the ultra smooth Pillsbury pie crust I've used before. However, it baked up fine and tasted great. Don't get discouraged if your homemade crust looks worse than store-bought!!
Bake pie for 25 minutes at 400 degrees, until gravy is bubbly and crust is golden brown. Allow to cool for at least half an hour before serving so you don't burn the entire right side of your mouth. (Not that I did that or anything.)
http://austingastronomist.com/austin-beer-week-venison-pot-pie-with-firemans-4/