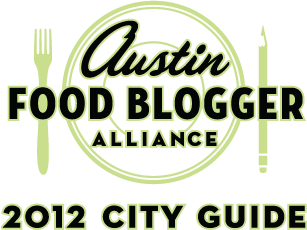 My love affair with Austin ice creams started years ago. In college, my boyfriend and I would hang out at Amy's Ice Cream at least once month, exchanging nibbles of Mexican vanilla ice cream smashed with cookie dough and marshmallows. We could practically chronologize our courtship with the stack of Amy's frequent buyer punch cards in our wallets. At that time, Amy's was the best (and practically the only) independent ice cream spot in Austin, famous for  its kooky waitstaff and creative frozen treats.
A lot has changed since then. Now I'm married to that college boyfriend, and Austin abounds with quirky, independent frozen desserts of nearly every variety. And while we still enjoy Amy's, it's now part of a large rotation of ice cream shops that we frequent. Here are some of my favorite of Austin's local, independent frozen treats.
Buzzworthy – Lick
2032 S Lamar Blvd, Austin, TX 78704
Lick's concept of savory/sweet, artisan ice creams made in small batches with local ingredients reads like a checklist of what's hot in food right now. And the ice cream is a testament to the quality and quantity of Texas' farm offerings. The store sources their milk from a dairy in North Texas and nearly all their produce is coming from local farms and farmer's markets. Co-owner Anthony Sobotik has been on site each time I have stopped by, peeking his head out from the kitchen to talk flavors like part mad scientist, part proud papa. He has reason to be proud– flavors like goat cheese, thyme, and honey; beet and fresh mint;  carrot and tarragon are worth bragging about.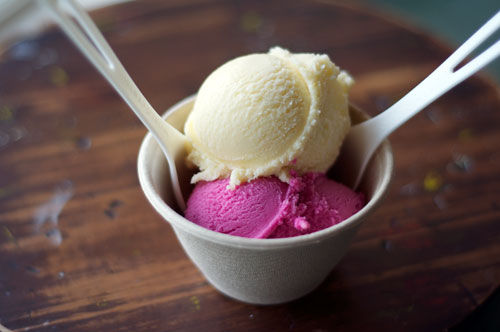 Gelato & Frozen Booze – Dolce Vita
4222 Duval Street, Austin TX 78751
Dolce Vita was around during my college years, but I stayed away from this Hyde Park gem until I reached legal drinking age. That's because in addition to wonderfully smooth gelato, Dolce Vita boasts a full bar. The pistachio flavor gelato is my favorite if I'm staying off the sauce, but for drinkies, you can't beat a big scoop of prickly pear sorbet blended with fresh lime juice and tequila. The technical term for this concoction is "sorberita," in case you were wondering, and they're just $5 during happy hour.
Best Kept Secret – Paleteria La Selva
1208 E Palm Valley Blvd, Round Rock, TX 78664
Even Google doesn't know where this little Round Rock Ice Cream shop is. When I used the search engine's map function and my GPS to find it, I ended up at a nearby park instead. Luckily, the man at the Exxon station down the road pointed me in the right direction: to the northeast corner of Palm Valley Boulevard and Sunrise Road, in a small strip mall.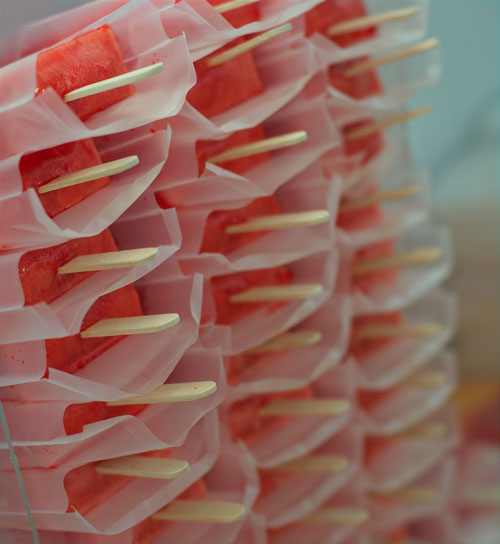 This paleteria boasts over 30 varieties of Mexican popsicles, made in-house with fresh fruit. Flavors include tamarindo, sandia, mango chile, and Americanized favorites like cookies con crema. According to the cashier on my visit, their most popular frozen treat isn't a paleta at all, but fresas con crema— a large cup of frozen macerated strawberry slices, filled with a generous slosh of sweetened table cream. Like the shop, which is furnished with patio furniture, this dessert is not fancy, but it's oh, so good.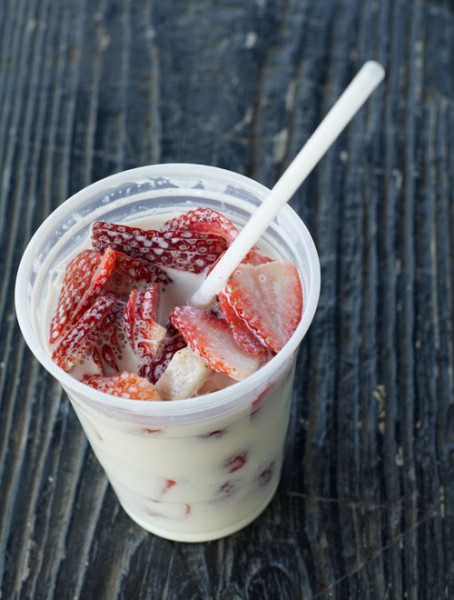 Atmosphere – Toy Joy Cafe
2900 Guadalupe Street, Austin, TX 78705
This little ice cream shop is every stoner's dream. It's tucked in the corner of Austin's weirdest toy store, so you can eat a soft serve waffle cone (or two– they won't judge) while you wander around and look at Hello Kitties, Rody bouncing horses, and ironic statuettes of the Virgin Mary. Vanilla is a standby at the ice cream counter, but other soft serve flavors vary from week to week, so check their Facebook page to find out the flavor of the week before you go. Oh yeah, all their ice creams are vegan, too, but don't be skeered. The taste and texture of the cubano soft serve I had on my last visit would give any cow's milk ice cream a run for its moola.
Ice Cream Sandwiches – Coolhaus
The truck roams, so follow the CoolhausATX twitter for the location 
Coolhaus isn't strictly local– this little truck is part of a small chain that started in Los Angeles and has spread to Austin, New York, and Miami. However, their offbeat ice cream flavors like brown butter candied bacon fit right in with our city. The ice cream sandwiches are HUGE, and you can create a custom sandwich by mixing and matching ice cream and cookie combinations to your heart's content.
Homage to Arrested Development – Bananarchy
There's always money in the banana stand, so it moves around a lot. And it hibernates when the weather's cold. Check their facebook.
Frozen bananas on a spoon, dipped in chocolate or peanut butter? Yes, please! Bananarchy is Austin's favorite frozen banana food trailer, so expect a line if the weather's nice. You can build your own banana, or choose a specialty treat from their pre-selected menu. Options like "The GOB" and "The Afternoon Delight" have just as much personality as the shop's banana baristas, who are chatty and a-peel-ing.
Vegan – Sweet Ritual
4500 Duval St., Austin TX, 78751
An assortment of vegan shakes, soft serve, sundaes, and coffee drinks are available here, with a more grown-up vibe than Toy Joy Cafe, which uses the same soft serve recipe. The sundaes, especially, are worth a splurge, since they're covered in house made sauces and generous portions of nuts or even edible glitter(!!!). Sweet Ritual shares a store space with Daily Juice cafe in Hyde Park, so this is also a good place to bring any health nuts. Let them drink wheatgrass while you order a chic-o-stick shake!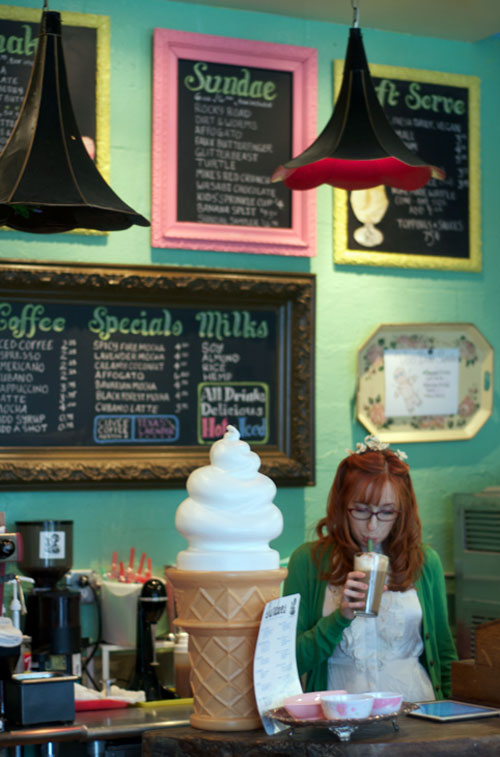 Good for Kids – Amy's Ice Cream on Burnet Rd.
5624 Burnet Road, Austin, TX 78756
Amy's started it all when they opened their first shop in Austin in 1984. The model is now familiar thanks to national chains like Marble Slab, but Amy's does it best: you choose your ice cream and an Amy's employee beats in your choice of crush'n's by hand while you watch. This interactive candy component, plus an ever-changing menu of traditional and offbeat ice cream flavors keep people coming back to this Austin institution again and again. Pro tip: the Amy's on Burnet shares an enormous patio and playground with Phil's Ice House, making it an especially fun place for families to hang out.
Popsicles – GoodPop
Locations vary
What began as a farmer's market popsicle stand is now a rapidly expanding empire, thanks to the entreprenurial spirit of owner Daniel Goetz. You can find GoodPops at grocery stores like Whole Foods and Central Market in Dallas, San Antonio, Houston, and Austin. Locally, several independent grocery stores, coffee shops, and book stores also stock the treats. During the summer, keep an eye out for the GoodPop pop up shop and cart in South Austin. This little cart is where it all started, and you can spot it along Pfluger bridge and at special events when the weather is warm.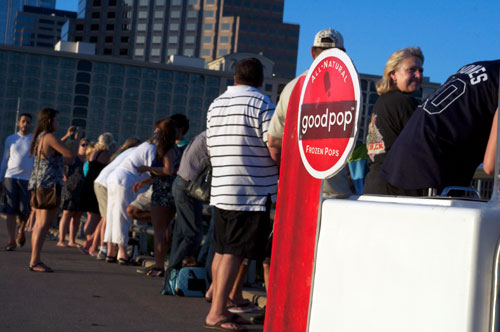 Frozen Custard – Likkity's Frozen Custard
11519 Manchaca Rd, Austin, TX 78748
Likkity's serves up frozen custard in deep south Austin out of a converted double decker bus. They've got your standard vanilla and chocolate on tap, plus a rotating weekly flavor like key lime, peanut butter, pumpkin, and red velvet. Besides the quality of the custard, shaded seating with music, friendly service, and a wet wipe with every order set this trailer way above the plethora of generic yogurt and soft serve options in Austin.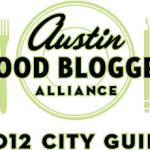 This post is part of the Austin Food Blogger Alliance 2012 City Guide. Check out the full list of blog posts at the AFBA web site.