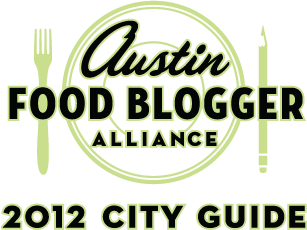 As a hobbyist food blogger, one of the best and worst parts of the job is making restaurant recommendations to friends. On one hand, it's a distinct honor to be trusted as a culinary tour guide. On the other hand, the stakes are high. It is daunting to  choose favorites with so many wonderful dining options available, and I specifically avoid restaurant reviews on my blog because of the pressure associated with that genre of food writing.
Earlier this month when my friend and fellow food blogger Jodi Bart solicited a whole bunch of restaurant recommendations for the 2012 Austin Food Blogger Alliance City Guide, I nearly skipped the whole thing. "Jodi and so many other bloggers are experts," I thought, "So I'll just let them do the work."
As I sat back on my heels and waited for another blogger to claim the North Austin write-up, I kept thinking of spots near my home in Crestview where I love to hang out. Some of these restaurants have dedicated PR staff, and they are frequently and deservedly mentioned in the pages of important magazines, newspapers, and notable food blogs. Others are rarely acknowleged in those circles, however, and I began to see this guide as an opportunity to spread the love I have for North Austin's diverse selection of eateries.
My guide to North Austin restaurants is by no means exhaustive. I am defining "North Austin" rather narrowly as the geographic area between 45th Street and Parmer Lane, Mo-Pac Expressway and IH-35. Because of these limitations, notable restaurants like Noble Pig and Monument Cafe are not included here. As part of Lakeway and Georgetown respectively, these and other restaurants north of Austin deserve to be mentioned in a write-up dedicated especially to those neighborhoods. Also missing from my list are food trailers, one of the most important and newsworthy facets of the Austin food scene. I feel that because of their mobility, these businesses deserve their own listing as a separate kind of establishment. Finally, despite my best intentions, I am sure I have excluded some of your favorite North Austin restaurants. Please let me know which ones you recommend by leaving a comment.
Pizza – House Pizzeria
5111 Airport Boulevard  Austin, Texas 78751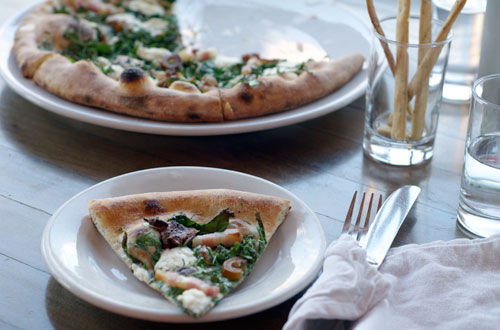 House Pizzeria has everything you could want in a pizza joint– local beer (and rootbeer!) on tap, a chill atmosphere, friendly waitstaff, and some the best thin crust pies you'll find in Austin. Their standing menu has drool-worthy options like the "Subterranean," with caramelized onion, fontina, mushrooms, rosemary roasted potatoes, and basil. But the real magic is in the restaurant's special pizzas, where the chefs take a free hand with a smorgasboard of local cheeses, artisinal meats, and produce from area farms.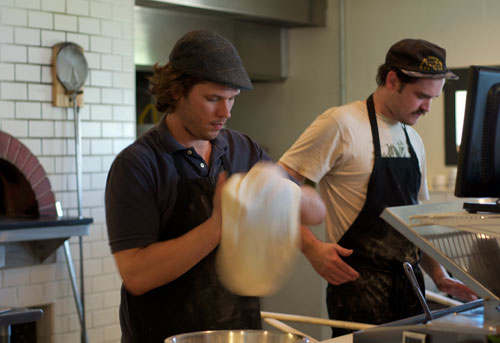 Best Bet for Foodies – Foreign & Domestic
306 East 53rd Street  Austin, TX 78751
The personalities of chefs Jodi and Ned Elliott, married in 2003, shine through in Foreign & Dometic's open kitchen, its locally-sourced ingredients, and its lively media presence. The restaurant and its chefs, which arrived on the scene in 2010, bring a welcome dose of charisma and candor to the Austin food community.
Greasy Spoon – Dart Bowl
5700 Grover Avenue  Austin, TX 78756

Some of the best diner food — and people watching– in Austin is at the Dart Bowl. Its full-service cafe is famous for entrees like grilled ham steak, club sandwiches, or cheese enchiladas served with toast. It's not fancy, but if you like cheap, old-fashioned comfort food in a kitschy atmosphere, Dart Bowl is right up your alley.
Top Ramen – Komé
4917 Airport Blvd, Austin, TX 78751
I have a soft spot in my heart for Komé's owners, Kayo and Take Asazu, since they spent countless hours volunteering for Austin Bakes for Japan last year. Now the Asazus are bringing Japanese home cooking to Austin with Komé, an unpretentious neighborhood eatery along Airport Boulevard. Athough Komé's sushi is excellent, its noodles are what make it shine. I recommend going for lunch, when the full selection of udon and ramen dishes are available.
Brewery – Black Star Co-op
7020 Easy Wind Drive  Austin, TX 78752
Black Star Co-op's farm to table menu and microbrews set it above many Austin neighborhood bars, and its co-operative business model is the first of its kind in the world. Brewer Jeff Young and chef Johnny Livesay are leading the food and beverage operations there, helping to revitalize the Crestview and Airport Boulevard areas of Austin.
Sports Bar – Cover 3 
2700 W Anderson Ln # 202  Austin, TX 78757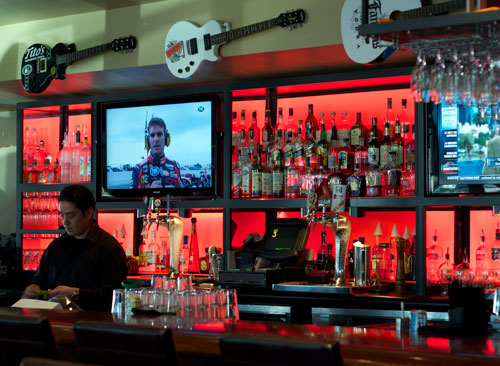 This is my favorite spot to watch the game– any game– in Austin. There are big screens a-plenty and a terrific menu with small bites, salads, burgers, and even respectable seafood offerings. The best time to come, in my opinion, is from 11 AM-2 PM on the weekends, when the restaurant has a build-your-own bloody mary bar and serves from the brunch and the regular menus.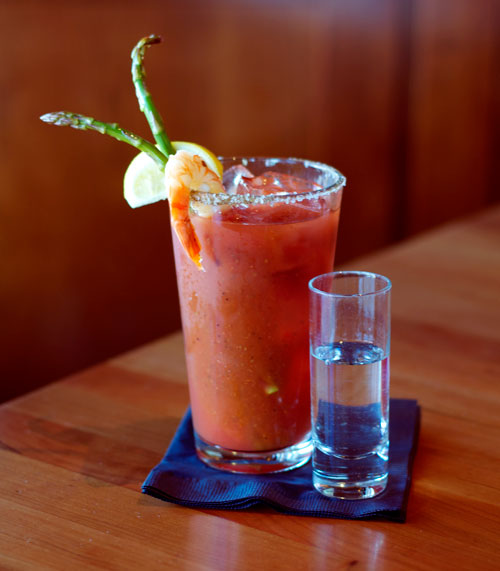 Newest – Drink.Well 
207 East 53rd Street. Austin, Texas 78751
Time will tell how this brand new eatery in the North Loop neighborhood will fare, but I was impressed by the friendly bar staff and craft cocktails on my first visit. I didn't get a chance to sample the menu (the restaurant opened yesterday, you guys), but offerings like Pop's Pickled Eggs, Yardbird Sausage and Waffles, and Housemade Twinkies have my curiosity piqued.
Italian – Andiamo Italiano Ristorante
2521 Rutland Drive  Austin, TX 78758
It's in a strip mall and the decorations are a little dated,  but Andiamo is one of the best options for fine dining north of highway 183. The pasta dishes here are pitch perfect, and the bread is heavenly. (They'll sell you a loaf or three for $5 a pop if you get hooked like I am.) Dinner here can be on the pricey side, so I recommend going for lunch. The exception to this is their monthly wine dinner, a four course delight that's very reasonable, and worth every penny.
Place to Take Out of Towners – Fonda San Miguel
2330 North Loop Boulevard West  Austin, TX 78756
Fonda San Miguel's lush atrium always reminds me of a Diego Rivera painting, and this gem is one of my favorite places to bring visitors in Austin. It's nestled in the Brentwood neighborhood, and Fonda serves up some of the best Mexican food in the city. I find that it's at its best during brunch, where the enormous spread of interior Mexican fare is perfect for dispelling the Tex-Mex-Velveeta-Cowboy stereotype that tourists usually associate with Mexican restaurants in Austin.
Neighborhood Landmark – Little Deli
7101-A Woodrow Avenue  Austin, TX 78757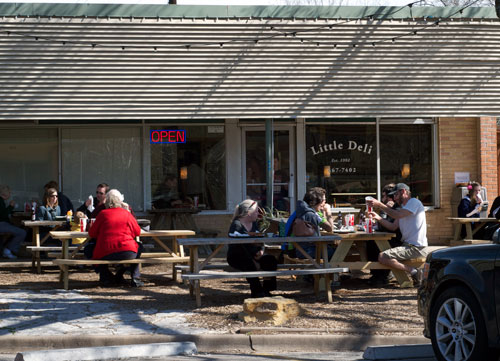 When I think of why I love living in Austin, restaurants like Little Deli come to mind. I can walk or bike there from my house, it's BYOB, and I almost always meet new neighbors hanging out on the restaurant's generous lawn. The crowd here is a mix of older regulars and energetic families with children, but across the board the vibe is friendly and welcoming. The deli's sandwiches are served up on fresh-baked bread, piled high with thinly sliced deli meats and cheeses. The pizzas are great, too, and since the deli sells a slice at a time, you can eat well here for under $5 per person.