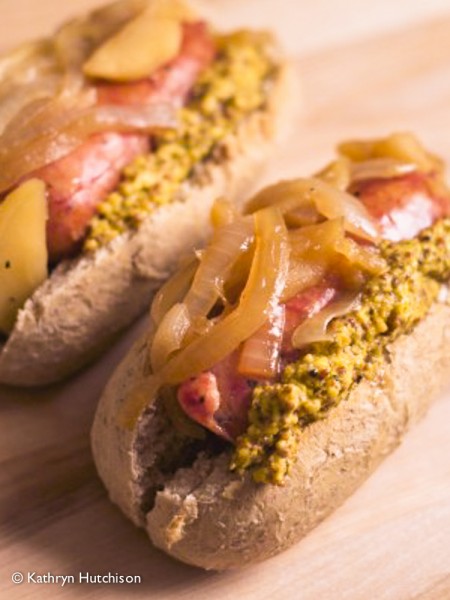 Whoever decided that Austin Beer Week and the World Series should happen in the same week is a genius. As I write this, I'm sipping a Full Moon Pale Rye Ale, eating a sausage sandwich, and watching the Texas Rangers gain momentum in the 6th inning of Game Five. Life couldn't be better.
I had originally planned to eat leftovers tonight, but when I realized it was a Baseball Night, I opted for a quick and easy sausage dish instead. This one-skillet supper features local apples, sweet Texas onions, local smoked sausage, and Real Ale's Full Moon Pale Rye Ale. You'd never guess that just four ingredients, plus a store-bought bun, could create such an amazing sandwich.
The sausage in this sandwich is garlic smoked  from Elgin, Texas. This little town northeast of Austin is renowned for its charcuterie, and the Meyer's brand of sausage is widely available at grocery stores across Central Texas. I chose to pair the Full Moon Pale Rye Ale with this sausage dish because the beer has a strong rye flavor up front, and a slightly floral finish. After the beer cooks down, its crackery flavors intensify, complementing the smokey garlic in the sausage, and balancing the sweetness of caramelized onions and apples.
A plain hot dog bun would do this sandwich zero justice. I opted instead for a whole wheat hoagie bun from the grocery deli, with the middle hollowed out to make room for the good stuff. I toasted the bun in the oven with a little butter so that it would make an appropriate resting place for that lovely beer braised sausage.
I admit that the mustard in this sandwich is what really put it over the top; I made it using whole brown and yellow mustard seeds, a little honey, and the same pale rye ale that I used to braised the sausages. (Don't worry, I'll share the mustard recipe tomorrow.) But even with a store-bought brown mustard, or better yet, Dai Due's Fireman's 4 variety, this sandwich would still be a surefire game night home run.
Beer Braised Sausage, Apple and Onion Sandwich
Ingredients
1 tablespoon olive oil
1 sweet yellow onion, sliced
3 apples, peeled, cored and sliced thin
4 garlic-smoked sausages
1/2 teaspoon salt
1/2 teaspoon black pepper
3/4 cup Real Ale Full Moon Pale Rye Ale
4 whole wheat hoagie buns, sliced down the middle
1 tablespoon butter, softened
Instructions
In an extra large skillet, heat olive oil over medium heat. Add sliced onions and apples and cook for 5 minutes, until onions are golden brown on the edges. Move onions and apples to the side of the pan to make room for the sausages, then place the links in a single layer on the skillet.
Let sausages cook undisturbed for 2-3 minutes, then use tongs to turn them over the brown on the opposite side. After 2-3 more minutes, pour 3/4 cup beer into the skillet. Stir the apples and onions, then allow the dish to continue cooking for 10-15 minutes. You'll know the sausage is done when the onions and apples are soft and sweeet, and the beer has reduced to an opaque sauce that just coats the bottom of the skillet.
When the sausages have finished cooking, turn off the stove. Preheat the broiler and spread a little butter on each split hoagie bun. Toast the rolls for about a minute under the broiler, until they are golden brown and crispy at the edges. Place one sausage link in each prepared roll. Top with mustard, braised apples, and onions.
http://austingastronomist.com/beer-braised-sausage-apple-and-onion-sandwich/