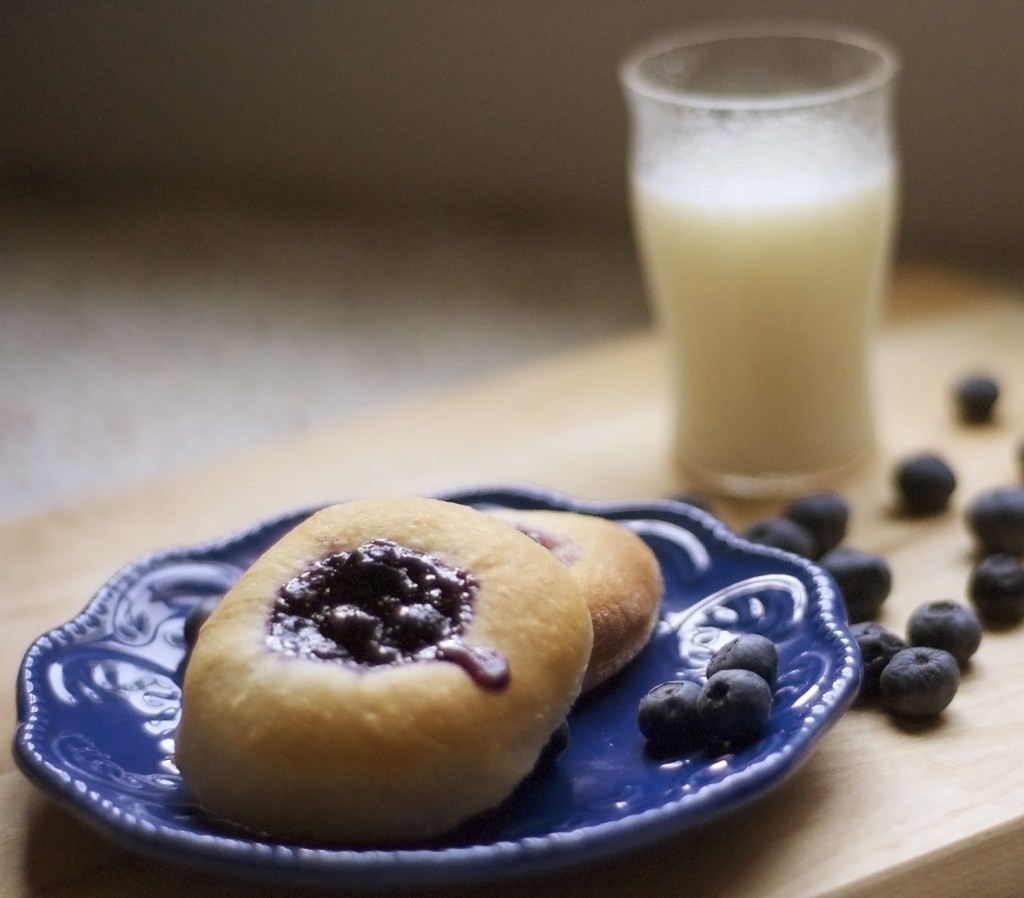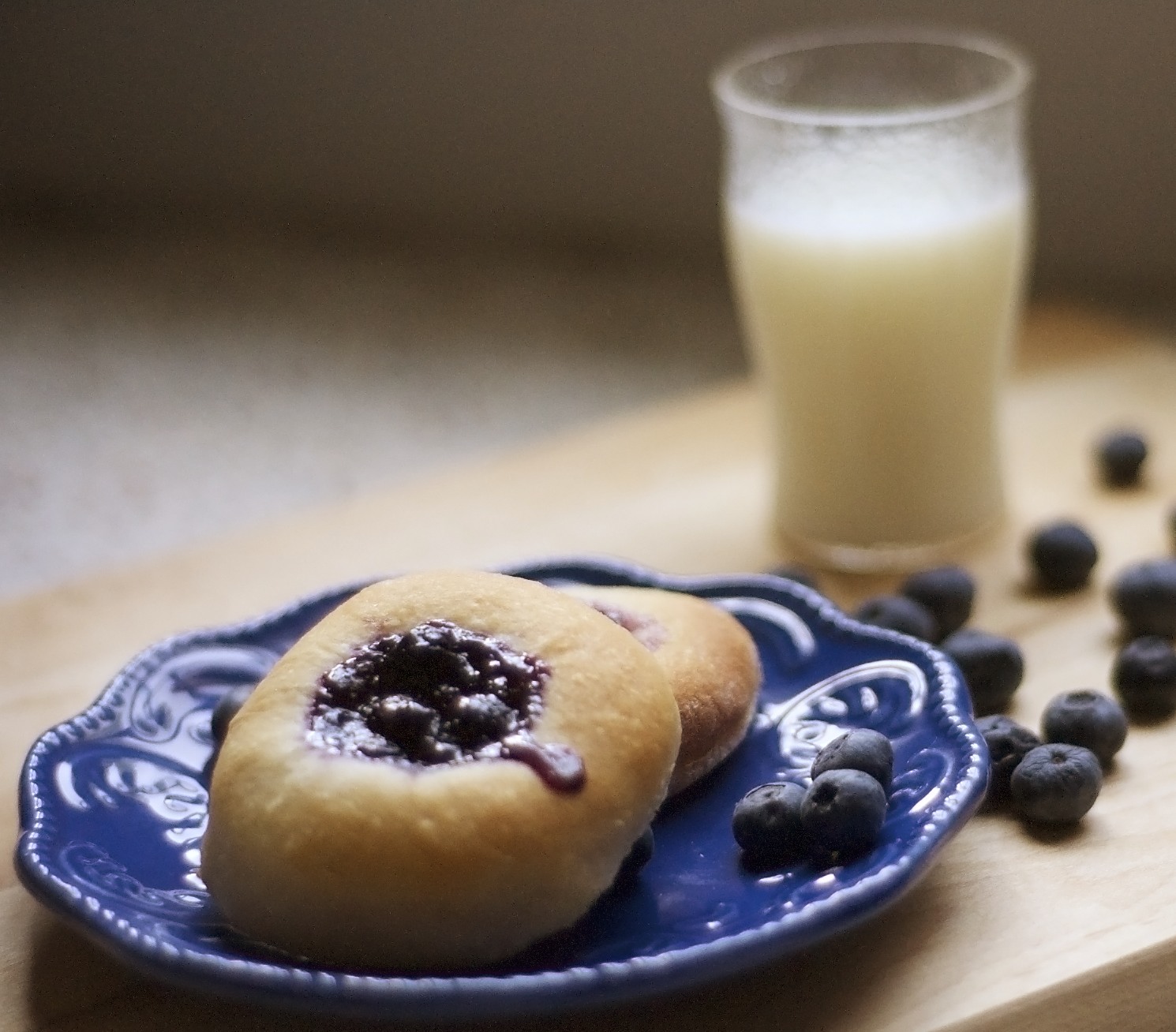 A kolache is a Czechoslovakian wedding pastry made with a yeast dough and a filling in the center. In the Czech pronunciation of the word, the "e" in kolache is silent. Unless you're in Texas, in which case you say it, "kuh-LAH-chee." Bonus points if there's an extra syllable because of a dialectical twang.
Texas kolaches are a special breed of pastry, having descended through several generations of Czech immigrants in various parts of the state. You'll find that kolaches in the self-proclaimed Kolache Capitol, West, differ from those in La Grange, Fredericksburg, El Campo and other areas. Some kolaches are filled with fruit, others with cheese or custard. Some are topped with a sugar glaze, others brushed with butter. And the kolache culture extends beyond the kitchen: Caldwell, Texas will hold its annual Kolache Festival this September, complete with a "Miss Kolache" pageant and a co-ed Kolache Softball Tourney.
The kolache's funny name and sweet taste, along with its proliferation in tiny towns across the state, make it a popular part of the Texas road food experience. One of the most recognizable kolache bakeries in Texas is the Czech Stop in West, about an hour south of Dallas. This bakery, housed inside a Shell station, churns out thousands of kolaches each day and has become a must-stop part of the journey between Austin and Dallas on I-35. (Only recently did I realize how uniquely Texan it is to have one of the state's largest kolache bakeries located inside a gas station.)
This weekend I took a mini-road trip to east Texas, and I was disappointed when my route didn't take me by any kolache bakeries. However, I did visit Berry Hill farms in Edom (pop. 375) where I picked bushels of blueberries– my favorite kolache filling. I didn't wait to make it home before I cooked up kolaches with those berries; my mom was kind enough to open her kitchen and bake a big batch with me in Dallas.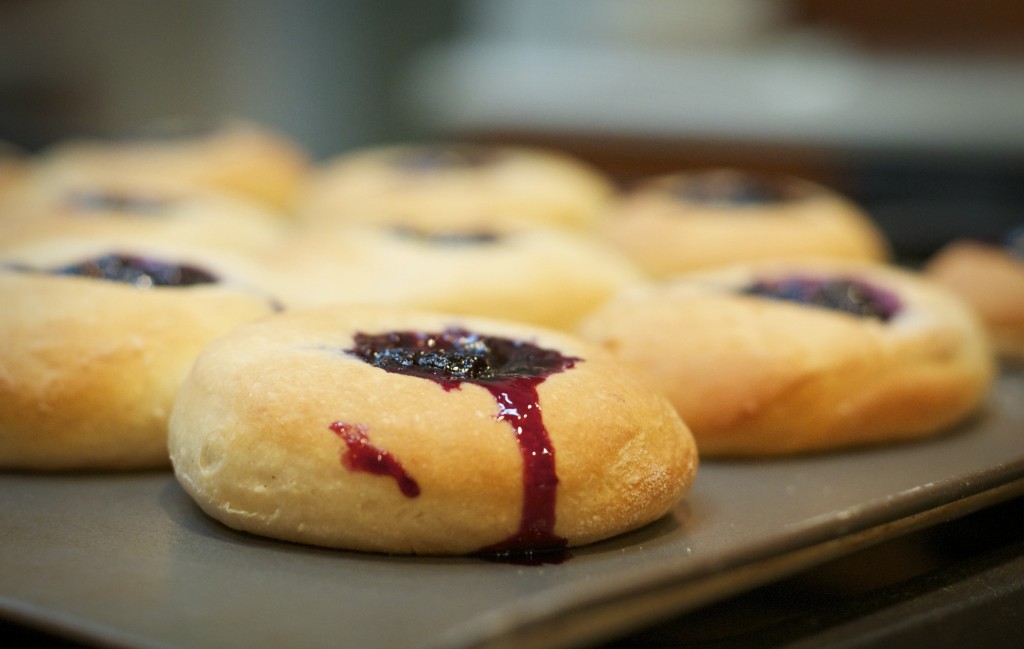 The kolache dough we made was a family recipe from my Aunt AdriAnne. I'm not sure whether AdriAnne grew up eating kolaches like I did, but she really nailed it with this dough. It is the lightest pastry dough I've ever made, and the perfect complement to juicy blueberry jam in the center of the roll.
The blueberry filling recipe is my own, scaled to make about 30% more filling than you'll need for the kolaches. The reason for this is two fold: I wanted to use an entire jello envelope (what do you do with a tablespoon of leftover jello powder?) and I wanted to have extra filling to eat straight out of the jar with a spoon on pancakes.
You'll notice that the consistency of the un-baked kolache filling is slightly wetter than typical jam– this is intentional to keep it from getting too hard as the pastries bake in the oven. If you elect to use a storebought jam as the filling instead of homemade, be sure to water it down just a touch with some simple syrup so you avoid a crusty kolache. No one wants that!
Blueberry Kolaches (makes about 5 dozen filled pastries, plus an extra 8 oz. of blueberry filling)
Filling:
2 pints blueberries
2 tablespoons fresh lemon juice
1 teaspoon fresh lemon zest
3/4 cup sugar
1 package lemon jello
Pastry:
1 cup butter
3/4 cup sugar, plus 1 teaspoon for proofing yeast
1 cup boiling water
2, 1/4 ounce packages active dry yeast
1 cup lukewarm water
4 beaten eggs
1 teaspoon salt
6-8 cups all-purpose flour, plus more for rolling
First, prepare the kolache filling; this can be done a few days ahead of time if you like. Rinse blueberries in a colander and pick out any stems. Place wet blueberries along with lemon juice, lemon zest and sugar into a two-quart saucepan. Cook over medium high heat, stirring frequently, for about half an hour, until the mixture boils and berries have given off lots of juice. Stir in the jello and turn the heat down to medium low. Continue to cook jam for about half an hour, until it has thickened slightly. Allow filling to cool and store in an airtight container in the refrigerator for up to a week.
For the dough, cream together 1 cup butter and 3/4 cup sugar in a large mixing bowl. Pour one cup of boiling water over the butter mixture and let it cool to lukewarm. Meanwhile, dissolve two packets of yeast in one cup lukewarm water and one teaspoon sugar. Let the yeast mixture stand until foamy, about five minutes, before pouring it into the mixing bowl. Add four beaten eggs and a teaspoon of salt to this and stir to combine.
Next, add all-purpose flour to the mixture one cup at a time, stirring well to incorporate the flour between each addition. There's enough flour in the dough when it forms a self-contained ball and pulls away from the sides of the bowl, typically around six to eight cups. Cover the mixing bowl with plastic wrap and set in a warm place to rise for about an hour, or in the refrigerator overnight. The dough will double in size during this time, so leave plenty of room.
Preheat the oven to 350 degrees and melt two tablespoons of butter in a small dish. Once the dough has doubled in size, turn it out onto a floured countertop and roll out to 1/4 inch thickness. Cut the dough into circles about 2-1/4 inches in diameter with a biscuit cutter or a glass. Place the cut dough on greased cookie sheets or jelly roll pans and allow to rest for about 20 minutes. Then, use a shot glass or your fingers to make a large depression in the center of each roll. Fill the depressions with jelly (I found that a baby spoon worked well for this), brush assembled rolls with melted butter and bake kolaches in preheated oven for 15-20 minutes. Brush kolaches again with butter after they come out of the oven.
These kolaches are time consuming, but the homemade taste is totally worth it, particularly for a large gathering or a holiday.