One of the most memorable meals of my recent vacation to Seattle was also one of the most simple: a plate full of farmer's market ravioli, dressed with a little butter, snap peas, and green garlic.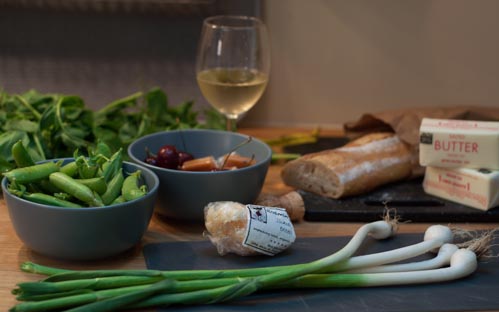 This tender bounty would be impossible in Texas' June, but Seattle's late spring weather let us feast on the season's delicate produce for a second time this year. David and I prepared the whole meal in about four square feet of kitchen space, using a single burner in our Seattle vacation rental.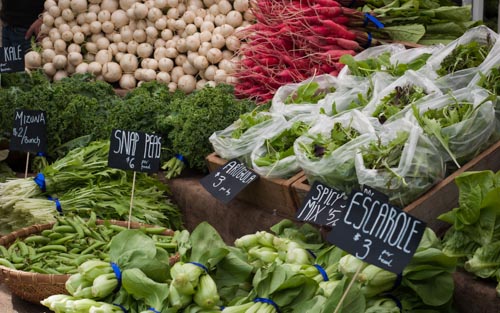 We gathered the ingredients for our meal at Ballard Farmer's Market the day before. Every stall at the market was bursting with spring veggies– each one fresher than the next. As soon as I saw that snap peas and pea shoots were available, I knew those were going to be on the menu. Some exquisite smoked local salmon ravioli from Pasteria Lucchese served as the centerpiece of our meal, and a baguette from Tall Grass Bakery rounded out the dinner.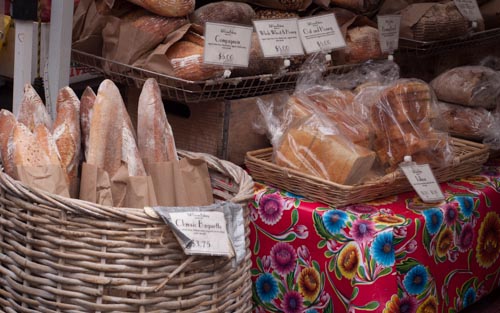 We bought the wine, lemon, and butter for this meal at the Interbay Whole Foods Market near Queen Anne. Scoping out Whole Foods was actually another foodie highlight of the trip for me. It may seem silly, but I love visiting local grocery stores in addition to farmer's markets on vacation. The foods at both places help me get my bearings– there's no faster way to know the people in neighborhood than through their food.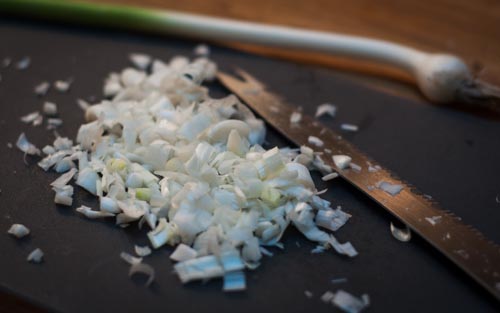 One of the challenges of cooking this dish, simple though it may be, was the limited space (less than a foot of counter room!) and supplies (no colander!) in our kitchen. If I had previously aspired to appear on a reality cooking program, those dreams were dashed by the harsh truth of trying to mince garlic with a tomato knife. That foot-long, serrated blade was one of two knives in our cabinet, the other being paring knife the size of a fold-out nail file. Seriously. That thing would have passed TSA inspection. After several tense minutes of garlic mincing with the tomato sword, I got frustrated and turned the meal over to David to finish.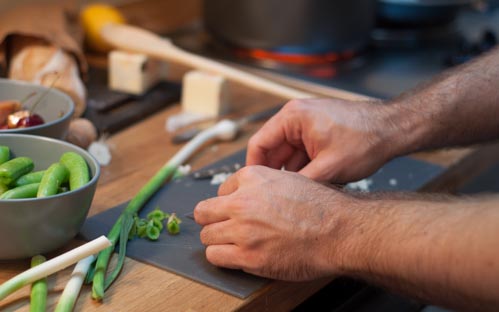 He managed to snap the peas, brown the butter and garlic, and boil our market ravioli without incident. Even the tender pea shoots were safe in his care– they practically cooked themselves in the steam of the finished dish. A grate of cheese, a splash of lemon, and a pinch of pepper later, the last supper of the vacation was complete.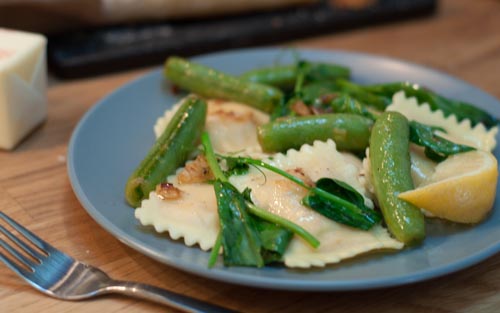 Smoked Salmon Ravioli with Snap Peas, Pea Shoots, and Green Garlic (serves 4)
1 package Pasteria Lucchese smoked salmon ravioli or similar prepared pasta
6 tablespoons and one teaspoon salted butter, divided
3 bulbs green garlic, peeled and minced
1/4 pound snap peas, trimmed
1/4 pound pea shoots, trimmed
Juice of half a lemon
Lemon wedges to garnish
Hard cheese to garnish, such as Island Brebis
Pepper to taste
These instructions are for one burner and two pots, the set-up we were using in our vacation rental kitchen. You can cook the pasta and sauce concurrently if your stove has two working burners: 
Cook ravioli to al dente in a large pot of salted boiling water, about 7 minutes for frozen pasta, 3 minutes for fresh pasta. Carefully reserve a few tablespoons of pasta water, and then drain ravioli. Return pasta to the cooking pot, along with a teaspoon of butter to help keep pasta from sticking together.
Melt remaining butter in a large skillet over medium-high heat. Add minced garlic and stir frequently until garlic and butter just begin to brown, about 2 minutes. Add peas to the butter and saute for 3-4 minutes, until peas are bright green and tender crisp. Turn off the heat and gently pea shoots into the sauce so they wilt evenly.  Finish the sauce with a squeeze of lemon juice and season with pepper to taste. Plate ravioli and top with butter sauce, peas, and pea shoots. Grate cheese over the top of the dish and garnish with a lemon wedge. Serve immediately.