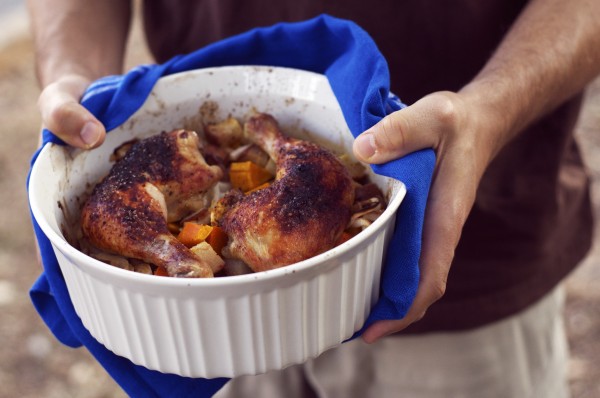 I  think my friend Megan spoke for everyone in Austin today when she tweeted: "Goodbye August and your stupid heat! Don't let the door hit your ass on the way out!" Indeed, it's the last day of the month, and I can't imagine a single thing about the past month's weather that I'm going to miss.
Last night Rami and I celebrated the end of August with this baked chicken and vegetable casserole. Its ingredients and savory sweet flavors foreshadow the goodness of fall. Chicken leg quarters sit on a bed of onions, butternut squash and pears, and the dish is seasoned with a glaze of maple, garlic, chili powder and cumin. Don't be fooled by the chili powder and cumin– the spices add a subtle heat to the dish, but not a Tex-Mex flavor.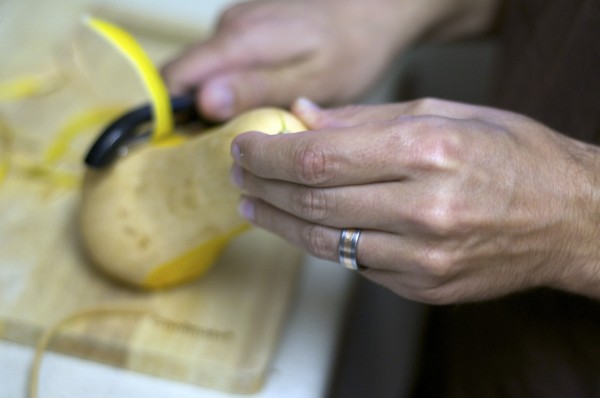 Butternut squash, Asian pears and onions straddle the summer and fall growing seasons perfectly, and we used them in this dish since they were handy. However, any combination of those vegetables and/or apples, sweet potatoes, acorn squash, shallots, red potatoes or Bartlett pears would taste good too. The only trick is to chop everything into evenly-sized pieces, and to peel anything that's got a hard exterior, like the squash.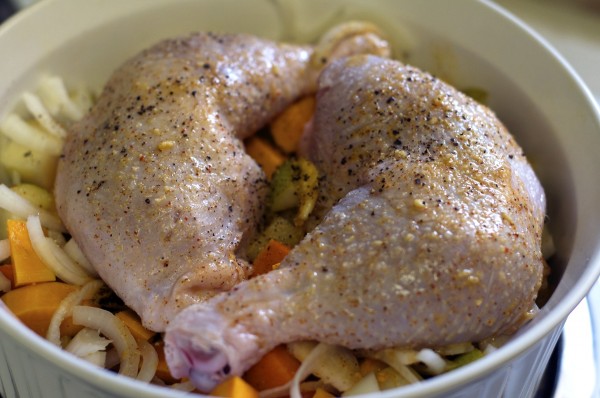 Garlic Roasted Chicken with Butternut Squash (Serves 2, with an extra serving of veggies leftover)
2 chicken leg quarters
2 small butternut squash, peeled, seeds removed
3 Asian pears, Bartlett pears or apples
1 onion
4 garlic cloves, peeled
1/4 cup dry white wine
2 tablespoons apple cider vinegar
2 tablespoons maple syrup
2 tablespoons olive oil
1 teaspoon chili powder1/2 teaspoon cumin
1/2 teaspoon salt
1/2 teaspoon fresh cracked pepper
Preheat oven to 425 degrees. Rinse the chicken leg quarters under cold running water and pat them dry with paper towels.  Trim away any extra fat or skin. Set the chicken on a clean plate in the fridge until you're ready to assemble the casserole.
Next, spray a two-quart casserole dish with olive oil or cooking spray. Dice the squash and pears into 1/4 inch pieces and slice the onion, arranging the cut veggies in the prepared casserole dish as you go. Place chicken leg quarters on top of the vegetables.
In the blender or food processor, combine garlic cloves and remaining ingredients. Process until smooth. Pour the mixture over the chicken leg quarters, and bake the dish in preheated oven for 45-50 minutes, until chicken juices run clear and vegetables are fork-tender. Allow the casserole to rest for 10 minutes on a cooling rack before serving.