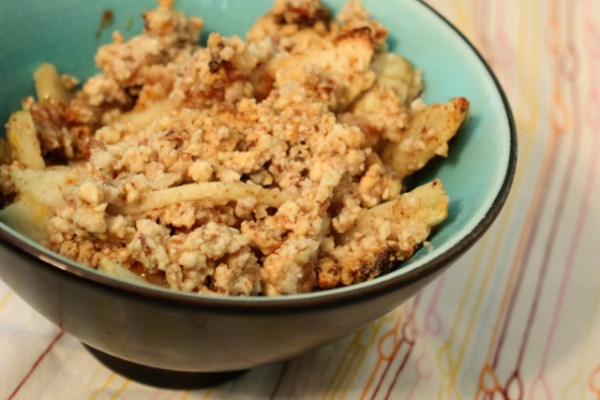 This post, like many that I will share in the next several months, belongs in the "better late than never" category. If you're a blogger, you know too well that a day-long hiatus from writing can turn into a week-long hiatus. And then a month-long hiatus.
Whoops.
Pretty soon it's been six weeks and your poor blog is lying barren in a dark corner of life's garden. I've been a naughty blogger, and I'm playing catch up starting today with the first of many, many overdue posts. It's a little embarrassing, but I have a feeling that nearly every experienced blogger knows my pain.
This lovely zucchini dessert recipe is the perfect thing to bring my blog out of hibernation. I tested the recipe over a month ago for frugal potluck hosted by my friends Lisa is Cooking  and Franish Nonspeaker, in celebration of Slow Food's $5 Challenge. Back in September, Slow Food put out the call for sustainably-produced value meals that wouldn't break the bank, and Lisa and Shelley hosted a pot luck so a few of us in Austin could participate. A terrific sampler of meals prepared in Austin is here, in Lisa's blog post for Slow Food Austin. Unfortunately, my status as a Bad Blogger means I'm past the deadline to officially participate in the challenge, but I figure it's never too late to share a good zucchini recipe.
I adapted this inexpensive dessert from Taste of Home's Zucchini Dessert Squares. That recipe, prepared as directed, costs just $1.12 per serving using organic butter and sugar and local zucchini purchased from Greenling. For the Slow Food challenge, I adapted Taste of Home's recipe so that it is a lighter on the wallet and the waistline. Instead of a three-layer dessert bar, I prepared the dish as a crumble, with one layer of zucchini filling topped by a buttery sweet layer of cookie crumbles. If the idea of zucchini dessert filling makes you blanch, relax. The zucchini is peeled so there's no trace of bitterness, and the finished dessert tastes just like Mom's apple pie. With my adaptions, the cost per serving of this recipe is just $.86, well within the bounds of Slow Food's challenge.
Zucchini Crumble (serves 16)
2 cups organic, all-purpose flour
1 cup organic sugar
1 teaspoon ground cinnamon
1/2 teaspoon salt
3/4 cup cold organic butter, cut into tablespoon-sized chunks
8-10 cups cubed peeled, seeded zucchini (3-4 pounds)
juice of 2 lemons, about 2/3 cup
3/4 cup organic sugar
1 1/2 teaspoon ground cinnamon
Preheat the oven to 375 and butter a 9×13 baking dish. In a large bowl, combine flour, one cup sugar, cinnamon and salt. Cut in butter until crumbly. (A food processor is useful but not essential here.)
For filling, combine cubed zucchini and lemon juice in a large saucepan over medium-high heat. Bring to a boil. Reduce heat to medium, cover and cook for 6-8 minutes, until zucchini is crisp tender. Stir in sugar and cinnamon, cover and continue to cook for 5 minutes. Pour filling into prepared baking dish and top with crumble mixture. Bake at 375 for 40-45 minutes, until filling is bubbling and topping is golden brown.
Photo by Amber Nussbaum. Licensed under Creative Commons.
(Disclosure: I work at Greenling. I purchased the ingredients for this recipe at full price, however, and I am not being compensated for this post.)