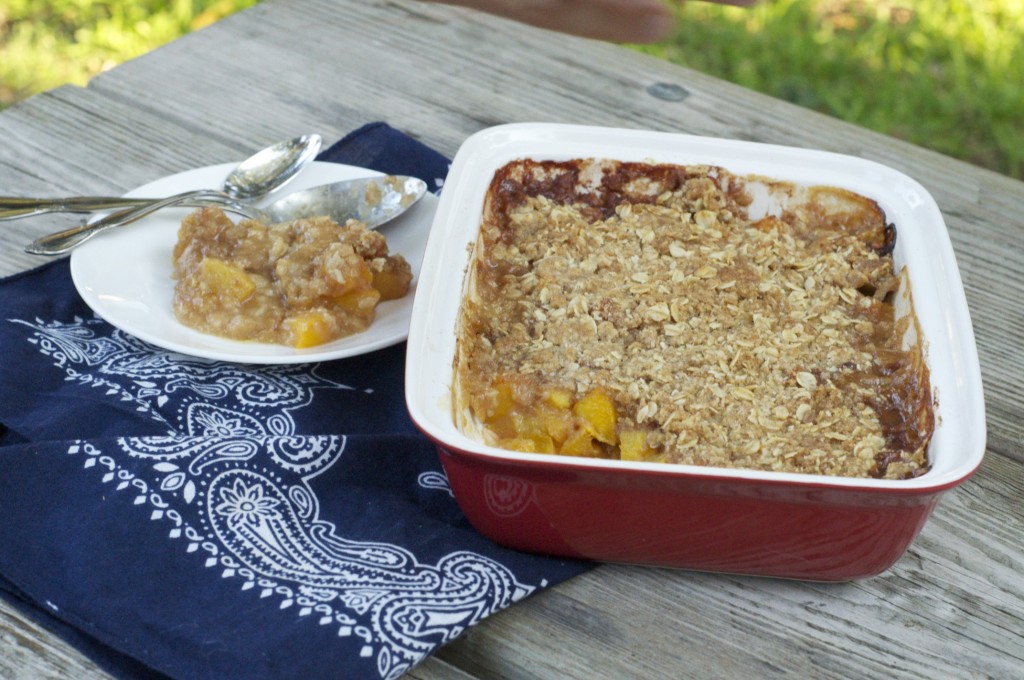 All you need for a no-fail peach crisp is a little fruit, a few pantry staples and an oven. In fact, making this dessert is so easy, I feel like I'm cheating by calling these instructions a recipe.
I have scaled my fruit crisp formula down to serve one as an individual dessert, and I've also made it in large quanitites as a pot-luck dish. Whatever quantity you need, this dessert has your back.
The base formula for fruit crisp topping is equal parts sugar, butter and flour. I like the texture of oats in my crisp topping, so I use half-flour and half-oats. Although this topping tastes great as-is, spicing it up is as simple as adding some cinnamon, allspice, cloves, bacon bits, grated fresh ginger, or whatever else sounds good that day. Crisp topping is pretty fun to experiment with since, unlike many other baked sweets, it's easy to taste as you go and adjust the flavor profile without throwing off the chemistry that makes the dessert successful.
My favorite fruit crisp filling is plain raw peaches. However, I have made this dish with a mix of peaches and blueberries, blueberries and blackberries, and peaches and raspberries. I've also experimented with adding jam or preserves to the filling. Whatever filling you use, be sure to chop the fruit so it is uniform in size and use enough to nearly fill your baking dish since the volume of the fruit will decrease as it cooks down. Finally, if you want to add some flavor to the raw fruit, vanilla or other extracts are the way to go. Alcohols like rum, bournon or white wine give fruit fillings a wonderful flavor, but you'd need to pre-cook the filling to burn off the alcohol and reduce the liquid enough for the crisp to turn out right.
I can't blog a recipe about peaches without giving a shout out to Caskey Orchards, my favorite source for Hill Country peaches. Their peaches are grown in San Marcos, Texas, and they are available through Greenling and at a few of the Central Texas farmers markets.
Five Ingredient Peach Crisp (serves 8 )
10 peeled, chopped raw peaches, or about four cups of other chopped soft fruit or berries
1 cup brown sugar
1/2 cup all-purpose flour
1 cup cold butter, cut into tablespoon-sized pieces
1/2 cup oatmeal
Preheat the oven to 375 degrees and butter an 8×12 inch baking dish. Put chopped peaches or fruit in the baking dish in an even layer. To make the crisp topping, fit a food processor with the blade attachment and pulse together brown sugar, flour and butter until the mixture has the consistency of damp sand (this takes about a minute). Add the oatmeal to the food processor and pulse once or twice to distribute the oats throughout the topping. Pour the topping over the fruit in an even layer and bake the crisp, uncovered, for 45-50 minutes, until the peaches are bubbly and the topping has browned. It's better to overbrown this disn than to underbake it– particularly if you plan to have leftovers.