Recently the good people at the National Mango Board invited me to develop a recipe for an upcoming cookbook they are creating for the BlogHer Food Conference. I love mangoes, and it's been awhile since I've blogged a recipe, so I enthusiastically agreed. They sent me a bunch of mangoes and a nice gift card for my trouble, too! (That's a disclosure, if you're keeping track.) A batch of mango kombucha, a few salads, and several oatmeal recipes later, a clear winner emerged: this easy recipe for overnight oatmeal made with ripe mangoes and coconut milk.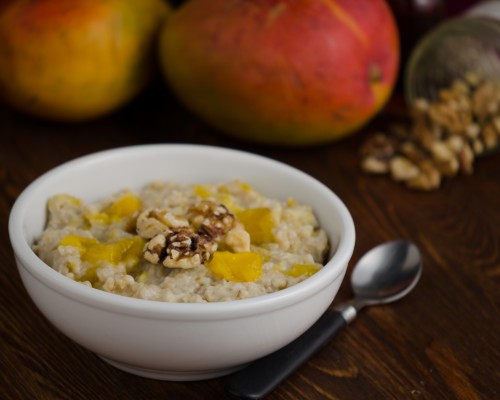 I'm working on a few separate posts about blogging best practices related to this experience, one about developing recipes, and another about evaluating sponsored posts. (Hint: partnerships like this one from the Mango Board are the coconut cream of the crop! Others, less so.) All this is in preparation for some proposals I'm mulling for Byte of Texas, Austin Food Blogger Alliance's first conference happening September 27-28th of this year. But those are posts for another less hectic day. Tonight, I'm curled up on the couch enjoying the literal fruits of my labor– sweet mangoes in a bowl of creamy steel cut oats.
Overnight Oats with Mango and Coconut Milk (serves 8)
2 cups steel cut oats
1, 13.5 ounce can full fat coconut milk<
7 cups water
2 cups finely chopped ripe mango, plus extra for topping (about 2 large mangoes)
1/4 cup brown sugar
1 teaspoon vanilla
1/2 teaspoon salt
1/2 cup walnuts, optional
Use nonstick cooking spray or coconut oil to grease the crock of a slow cooker. Place all ingredients inside, except walnuts. Place the lid on the slow cooker and cook on low for 6-7 hours or until smooth and creamy. Do not remove the lid during cooking time. Once oats reach desired consistency, change temperature to warm. (Overcooking will cause oats to become mushy, or to stick to the bottom of the slow cooker.)  Stir oatmeal very well prior to serving.  Serve topped with walnuts, if desired, and additional chopped mangoes.