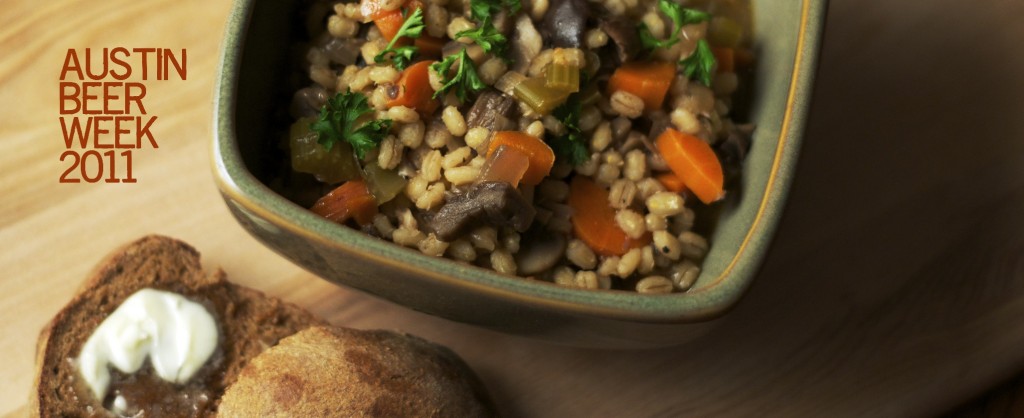 Austin Beer Week is here! That means it's time to pull out your pint glass, fire up the hospitality fridge, and enjoy the dozens of beers brewed right here in Austin. The Texas Craft Brewers Guild and other Beer Week organizers have outdone themselves this year; there are countless events, specials, tastings and parties all week long in celebration of Austin's brewing community. (See the full calendar of activities here.)
I'm celebrating Austin Beer Week in my home kitchen, with a series of special beer recipes I've developed for the occasion. Each recipe features a different locally brewed craft beer, and I tried to select varieties that are widely available at Austin-area gas stations and liquor stores.
The first recipe in my Austin Beer Week series is a mushroom barley stew made with Independence Brewery's Austin Amber Ale. Austin Amber Ale pours burnt orange with a thick white head, and it has a medium body. It is lightly carbonated with flavors of roasted barley, grass, and a hint of citrus, and it finishes very clean.
My stew recipe plays up the nutty qualities of the beer with barley, while celery and lemon juice complement the ale's citrus notes. Three kinds of local mushrooms add umami and a rich texture to the stew, without overpowering the beer's subtle flavors like beef would have. I definitely would have gone a different, darker, direction with this stew if I had been using a heavier beer,; however, the finished recipe is satisfying and clean without getting too heavy– just like Austin Amber Ale.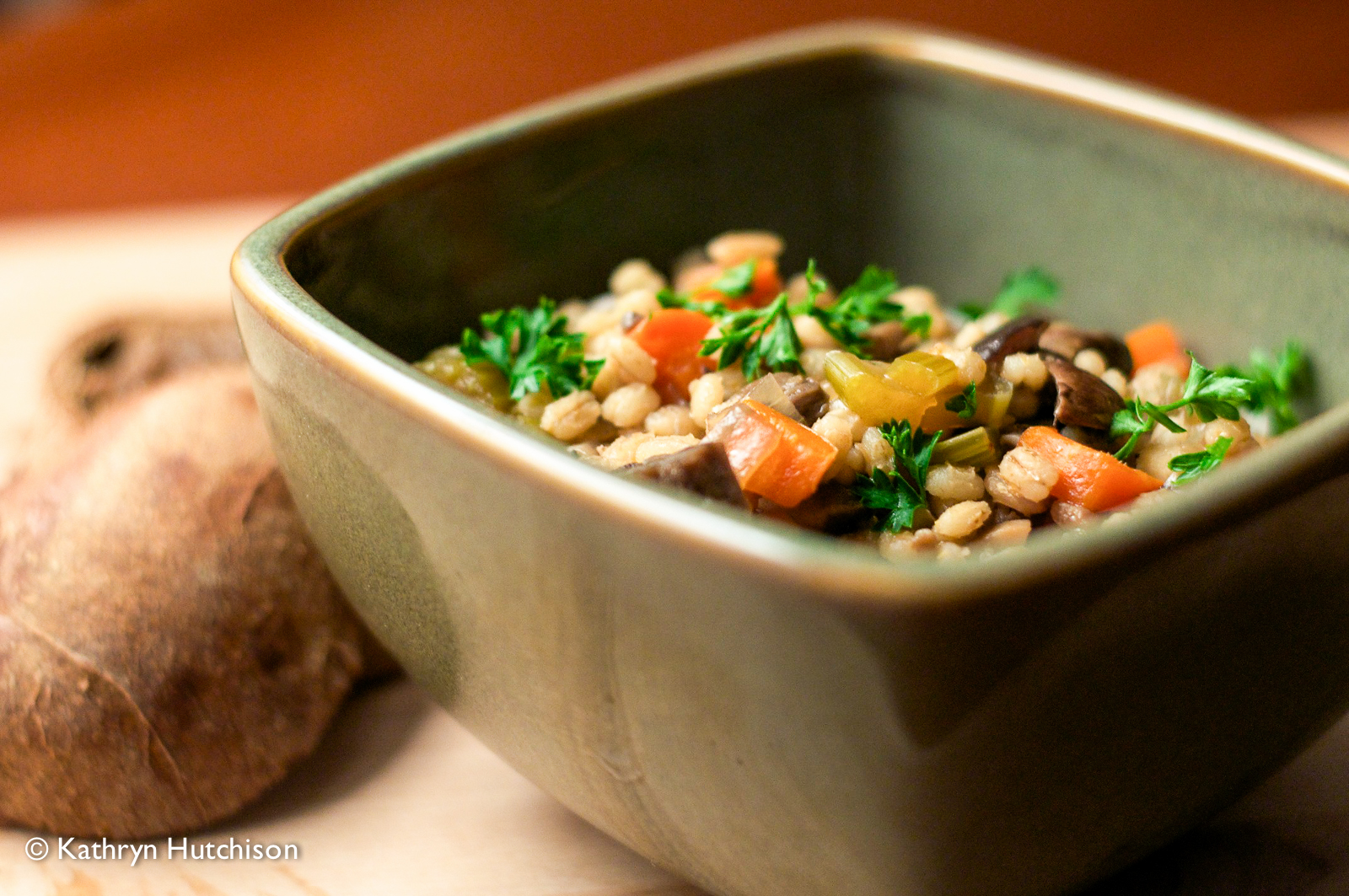 Mushroom Barley Stew with Austin Amber Ale
Ingredients
1 tablespoon olive oil
1 onion, chopped
2 cloves garlic, minced
2 ribs celery, diced
2 carrots, diced
1 cup white button mushrooms, chopped
1 cup shitake mushrooms, chopped
1 large portabella mushroom, chopped
12 oz. bottle Austin Amber Ale (if this is not available where you live, substitute a medium bodied ale or lager)
3 cups beef stock
1 cup water
1 teaspoon salt
1/2 teaspoon pepper
1 cup uncooked pearl barley
1 tablespoon lemon juice
fresh parsley for garnish
Instructions
In a large pot, heat olive oil over medium high heat. Add onion, garlic, celery and carrots, and cook for 5-7 minutes, stirring occasionally. Once onions are translucent, add mushrooms. Continue to cook, stirring occasionally, for 3-5 minutes, until mushrooms begin to soften and lose volume.
Pour in the beer and stir vigorously to deglaze the bottom of the pot. Add beef stock, salt, pepper, and barley to the pot. Once the liquid begins to boil, turn the heat down to medium low. Cover the pot and allow the stew to simmer for an hour, until barley is chewy and vegetables are very tender. Remove stew from heat and stir in lemon juice. Garnish with fresh parsley before serving.
http://austingastronomist.com/mushroom-barley-stew-with-austin-amber-ale/