Note: It's Austin Beer Week! To celebrate, I've cooked up several recipes that feature Austin-crafted beers and ciders, which I will share every day for the next week. Click here to see all of my Austin Beer recipes, with goodies like Oatmeal Stout Ice Cream, Mushroom Barley Stew, and Venison Pot Pie with Fireman's #4. 
The Apple Cider Wheat Bread recipe I shared yesterday calls for  1 and 1/2 cups of Austin Eastciders Gold Top cider, which happens to be 3/4 of a full bottle. What do with the rest? Make some honey butter, of course!
This quick and easy recipe for homemade honey butter uses just a few ingredients, but the flavors are something special. Local honey and maldon salt play off rich butter, and Gold Top cider adds a hint of bitter umami in the finish. This butter is best slathered on warm bread, but I also like using it to finish savory-sweet sauces on the stovetop.
Don't forget, Austin Eastciders is opening a new tasting room on Springdale Road in East Austin today! (See the Austin American Statesman for a terrific write-up on this.) The Austin Eastciders grand opening party is just one of several events the company is hosting as part of 2014 Austin Beer Week, full calendar here, and I am thrilled to include them in my own Austin Beer Week recipe coverage this year.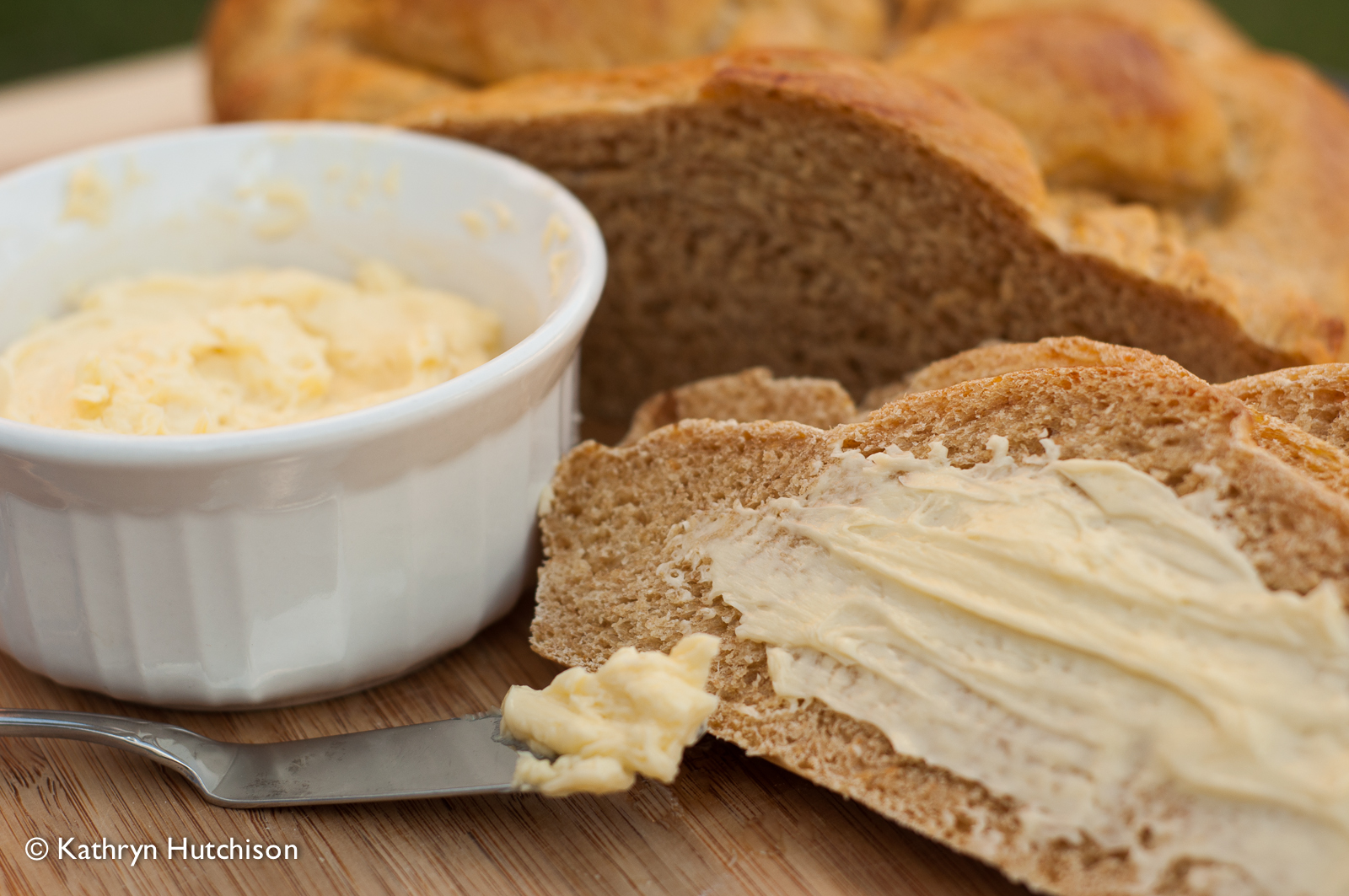 Austin Eastciders Honey Butter
Ingredients
1/2 cup unsalted butter, softened
1 tablespoon Austin Eastciders Gold Top Cider
1 tablespoon honey
1 teaspoon Maldon or other coarse flaked salt
Instructions
Combine softened butter, cider, honey, and salt in a mixing bowl. Beat with an electric mixer on high for 2-3 minutes, until butter and liquids are fully incorporated. Some liquid may cling to the side of the bowl, separate from the butter, which is fine. Transfer butter to butter molds or a serving container. Serve or refrigerate immediately.
http://austingastronomist.com/austin-eastciders-honey-butter/