Note: It's Austin Beer Week! To celebrate, I've cooked up several recipes that feature Austin-crafted beers and ciders, which I will share every day for the next week. Click here to see all of my Austin Beer recipes, with goodies like Oatmeal Stout Ice Cream, Mushroom Barley Stew, and Venison Pot Pie with Fireman's #4. 
For my first 2014 Austin Beer Week recipe, I made a wheat bread to showcase Austin Eastcider's premium variety Gold Top Cider. This stuff isn't the fizzy apple juice you might think of when you hear the words, "hard cider." It's effervescent, complex, and more bitter than sweet. Made with a variety of American-grown heirloom and vintage apple varieties, it is available on tap at many local bars and restaurants, and by the bottle at Austin Whole Foods Market and Wheatsville Co-op locations.
Starting Saturday, October 25, you can taste Austin Eastciders at the source! Austin Eastciders unveils their new urban cidery on Springdale Road with a grand opening party tomorrow, after months of delays with city permits. (See the Austin American Statesman for a terrific write-up on this.) The Austin Eastciders grand opening party is just one of several events the company is hosting as part of Austin Beer Week, full calendar here, and I am thrilled to include them in my own Austin Beer Week recipe coverage this year.
The buttery, slightly bitter Gold Top lends itself beautifully wheat and grain flavors, so using it in a bread was a no-brainer. To give the bread added softness and body, I chose to incorporate sweet potatoes from Springdale Farm, a natural harvest complement to bitter apples. I adapted my recipe from a few trusted favorites: my mom's recipe for bulgar wheat bread, and Betty Crocker's Pumpkin Braided Wreath.
The finished loaf is chewy, a little sweet, and has a slightly floral quality thanks to the punch from the Gold Top Cider. Its braided shape makes it pretty enough to serve on its own, and the whole wheat flour gives it enough body for sandwiches as well. We've been devouring it slathered with homemade Austin Eastcider Honey Butter (recipe coming tomorrow), and as the foundation for sharp cheddar and apple grilled cheese.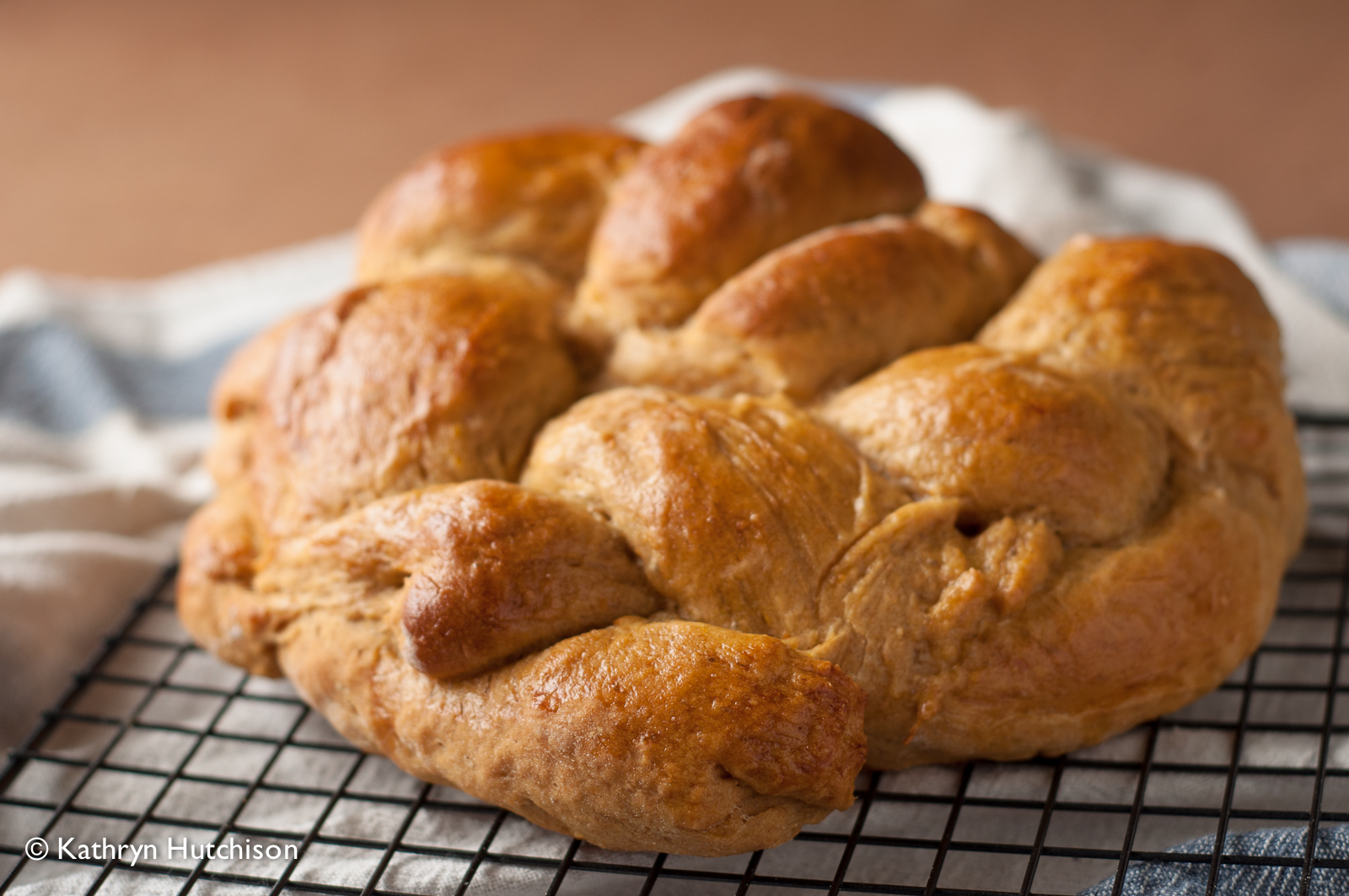 Apple Cider Wheat Bread featuring Austin EastCiders
A wholesome, vegan-friendly wheat bread featuring craft apple cider and sweet potatoes.
Ingredients
3-4 cups all-purpose flour
2 cups whole wheat flour
1/4 cup sugar
1 1/2 teaspoons salt
2 packages active dry yeast (4 1/2 teaspoons)
1 cup sweet potato puree
1/4 cup butter or vegan margarine
1 1/2 cups Austin Eastciders Gold Top Apple Cider
1 egg yolk or 3 tablespoons vegan margarine
Instructions
Grease a large baking sheet with cooking spray or butter.
In a 2-quart saucepan, heat sweet potato puree, butter, and cider until very warm (about 120° F). Do not overheat this mixture; liquids over 120° F will kill the yeast!
Stir together in a large mixing bowl two cups all-purpose flour, sugar, salt, and yeast. Add the sweet potato mixture to the bowl and beat with an electric mixer on medium for 3 minutes.
Stir in 2 cups of whole wheat flour and beat for another minute. The dough should be tacky at this point. Switch to your mixer's dough hook attachment or begin kneading the bread in the bowl with your hands. Add the remaining all-purpose flour two tablespoons at a time and continue kneading until the dough becomes springy and matte in appearance, about 3 minutes with an electric mixer or 5 minutes by hand. You may not need to add all the flour, depending on the conditions in your kitchen. Cover the dough with a clean dish towel and set it in a warm place to rise for about an hour, until it has doubled in size.
Punch dough down and move it to a clean, flour-covered surface. Divide dough in half. Divide each half into 3 pieces, and roll each piece into a 24-inch rope. Place three ropes side by side on a baking sheet, pinch one end together, and braid. Coil the braid in a circle and pinch the ends together, forming a circle. Repeat with the remaining dough. Cover both braids and set in a warm place to rise for about 30 minutes.
Preheat the oven to 375° F while bread is rising.
Prepare an egg wash by beating together one egg yolk and a tablespoon of water. (For vegan bread, use 3 tablespoons melted vegan margarine instead.) Use a pastry brush or your fingers to brush the risen loaves with this mixture and bake for 20-24 minutes, until golden brown.
Let loaves cool on wire racks for an hour before enjoying the finished bread.
http://austingastronomist.com/apple-cider-wheat-bread-featuring-austin-eastciders/